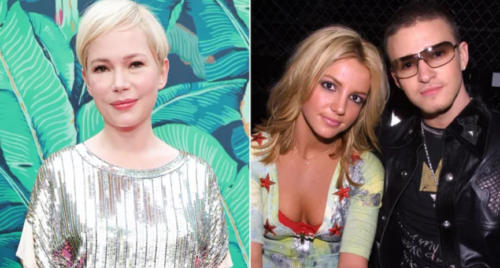 So I wont be able to get the new Britney Book 'The Woman in Me' till November when my audible.com membership renews and I have credits. But knowing Michelle Williams is tearing up the reading of it is making me even more excited to get November going!
If you didn't know, the award-winning actress offered her services to read the audiobook version of Brits new tell-all.
In one part of the book, Britney is describing a night when she and Justin ran into rapper Ginuwine and Justin went into his best white boy 'blaccsent' and shouted "Oh yeah, fo' shiz, fo' shiz. Ginuwine, what's up, my homie?'" !!!!!!! Like WHAT???
But wait, there's more.. lol so Michelle Williams, the sweet soft spoken pixie we know from Dawsons Creek, ATE UP her impression of the cringy moment.
Well thank god tiktoker PopCultureThatCherry have the presence of mind to record that shit and let us all take a listen. So please. Take a listen.