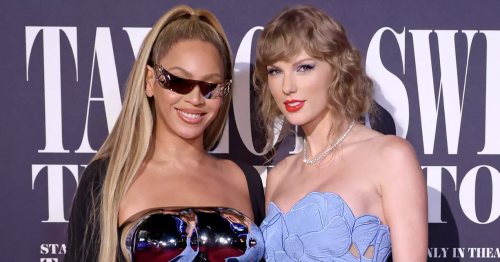 For most of us the record breaking Taylor Swift Era's Tour movie doesn't start until Friday, the 13th. But for a choice few at the Wednesday night preview, they got to see more than a blockbuster. They saw mega stars.
"I'm so glad I'll never know what my life would've been like without @beyonce's influence," Swift began the heartfelt Instagram caption, which was written alongside a boomerang video that showed her and Beyoncé inside the movie theater. "The way she's taught me and every artist out here to break rules and defy industry norms. Her generosity of spirit."
"Her resilience and versatility," the "Love Story" singer added in her Wednesday post. "She's been a guiding light throughout my career and the fact that she showed up tonight was like an actual fairytale. ???."
Beyoncé — who recently wrapped up her Renaissance World Tour — wore a stylish black outfit with a shiny silver breastplate, which was also on display when she posed alongside the "Blank Space" singer on the red carpet for the event. Swift meanwhile, wore a strapless blue Oscar de la Renta gown with floral cutout detail and accessorized with a diamond necklace.
I personally have tickets for the Saturday show and could not be more excited.