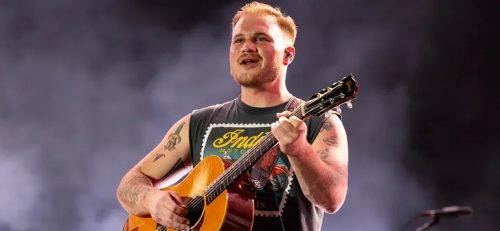 Country music's current number one act was arrested last night in Oklahoma on obstruction charges.
Zach Bryan, whose song "I Remember Everything" is currently number one on the Billboard charts, admits he was "out of line" during his run in with the Oklahoma Highway Patrol.
'Today I had an incident with the Oklahoma Highway Patrol. Emotions got the best of me and I was out of line in the things I said,' he said in a tweet late Thursday.
He continued: 'I support law enforcement as much as anyone can, I was just frustrated in the moment, it was unlike me and I apologize. They brought me to jail, and there is a mug shot of me floating around.
'Prayers we can all move on from this and prayers people know I'm just trying the best I can, I love you guys and I am truly sorry to the officers.'
Now… before you ask, no, you didn't miss the part that says why he was arrested. We don't know why.
But earlier in the day Zach posted a photo of himself in his truck heading to watch the Eagles game writing, "On the road again, gonna go see the birds win," so maybe something happened on the road?
Certainly, the info will come out eventually, but for now, I think he handled the situation well. You just apologize and prepare to move on.