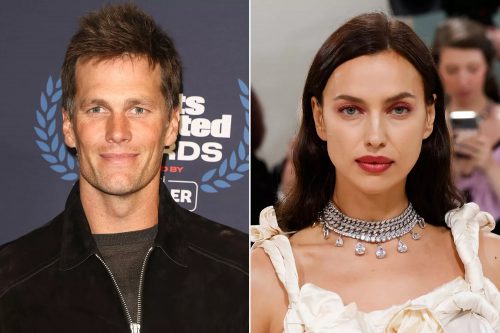 This week we heard that Tom Brady and Irina Shayk are getting close. And specifically that this is "not at all a fling". That according to as source close to the pair.
Model Irina is, of course, the ex of Bradley Cooper whom she shares 6 year Lea with. No word on if he's ok with his baby mama hanging out with footballs "GOAT", but Bradley's regarded as one of the most easy going guys in Hollywood, so I'm guessing he's ok.
Also seemingly ok with the blossoming romance is Tom's ex, Gisele Bündchen. A source told People magazine that Gisele "is on holiday in Brazil at the moment and is living her life, but she's said in the past that she just wants him to be happy."
Tom and Irina met at a wedding back in June but have kept closely in touch. Even meeting up. The source says Brady invited Shayk to "fly out and meet up in Los Angeles" and that "they spent the night Friday and Saturday at a house."
"There is an attraction," the source says, sharing that Brady and Shayk "have never been involved romantically before" the summer fling began. According to the source, the two "have been in touch for a few weeks" and "there is a spark."
We shall see.