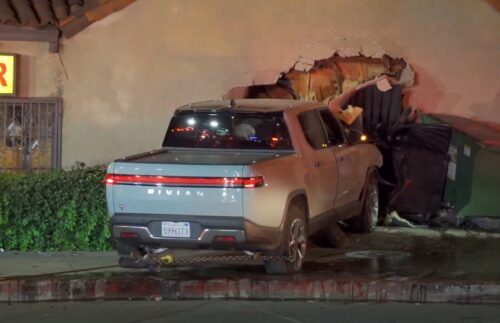 Alan Ruck, who is best known as Cameron from Ferris Bueller's Day Off and from Succession, says he doesn't know how he crashed his $80,000 Rivian electric truck Tuesday night.
The collision happened around 9 p.m. at the busy intersection of La Brea Avenue and Hollywood Boulevard, on the west end of Hollywood's famous Walk of Fame.
Social Media was actually flooded with video following the crash just because it was such a wild scene, but it just happened to be a celeb doing the crashing.
People on the scene said Ruck didn't appear drunk and was mostly focused on how everyone else was doing.
"The whole building shook and I thought a bomb or something had exploded," Tim Ratcliff, who owns several restaurants next to Raffallo's, told KTLA's Chris Wolfe.
Ratcliff says he rushed to help Ruck who appeared more concerned about the wellbeing of others than his own.
"I asked him, 'Are you okay?' And the first thing out of his mouth was, 'Is everyone [else] okay? I think I hit someone. Is he okay?'"
Surveillance video obtained by KTLA shows Ruck's Rivian rear-end a car that was stopped at a traffic signal, and then careen into another car before crashing through a wall at Raffallo's Pizza shop.