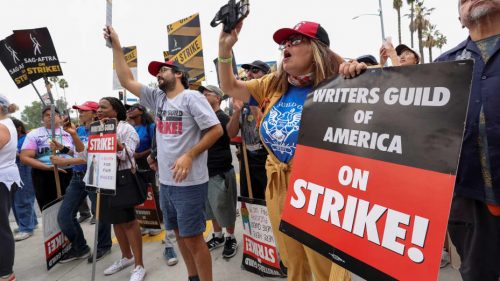 Huzzah! The Writers Guild of America (WGA) has reached a tentative deal with Alliance of Motion Picture and Television Producers (AMPTP) to finally put an end to one of the longest strikes in Hollywood history after 145 days.
"We have reached a tentative agreement on a new 2023 MBA, which is to say an agreement in principle on all deal points, subject to drafting final contract language," the guild told members this evening in a release, which came just after sunset and the start of the Yom Kippur holiday that many had seen deadline to wrap up deal after five days of long negotiations.
Details of the WGA's tentative agreement haven't been released but will be revealed by the guild in advance of the membership ratification votes.
So when do they go back to work? No yet. In a strong show of solidarity, the guild says its writers will not return to work until the actors guild (SAG-AFTRA) also reach a deal with AMPTP.
No word on where SAG and AMPTP are in their negotiations, but hopefully this deal will set a fire under their talks as well.