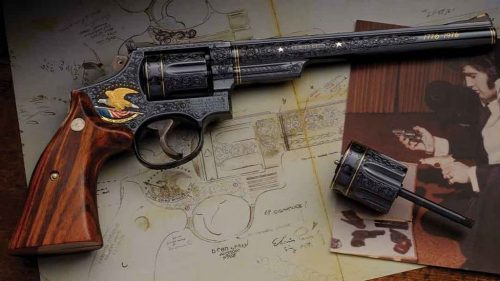 Unless it was baked in an apple pie, you can't get more American than Elvis' gun. So it's no wonder the thing brought in $200k at a recent auction.
Presley's engraved Smith & Wesson Model 53 was expected to bring between $60,000 – $90,000, but competitive bidding from gun enthusiasts and Elvis fans around the world resulted in a final hammer price that more than doubled the revolver's high estimate.
"The collectibles market has been experiencing unprecedented growth in several genres," said RIAC President Kevin Hogan. "When you combine two of those genres, Elvis' memorabilia and collector firearms, the result is tremendous excitement and high totals at auction."
Word is guns belonging to historical and pop culture figures are in high demand, so expect more sales like these. Recently a revolver owned by John Wayne and seen in some of the star's feature films for $517,500.