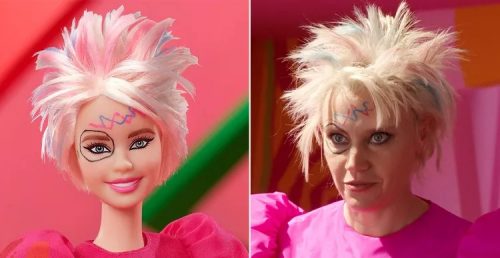 The surprise mega hit "Barbie The Movie" shocked everyone with how it has taken over the box office. But not all Barbies are created equal.
In the film you meet Kate McKinnon's version of a Barbie whose owner maybe did too many make overs on her and now she's a mess. lol. And Mattell is now rolling out a real version!
"Time to get weird ?? Inspired by her look in @BarbieTheMovie, Weird #Barbie knows what it's like to play just a liiiiittle too much," the company wrote in a caption to the post, which featured four images of the toy matching McKinnon's oddball splits and poses displayed throughout Greta Gerwig's new movie.
The toy brand has been selling a number of Barbie products inspired by the hit movie since its release on July 21. Dolls matching Simu Liu's Ken and Issa Rae's President Barbie, as well as Ryan Gosling and Margot Robbie's characters in the film (in a variety of costumes) are also available for purchase on Mattel's website.