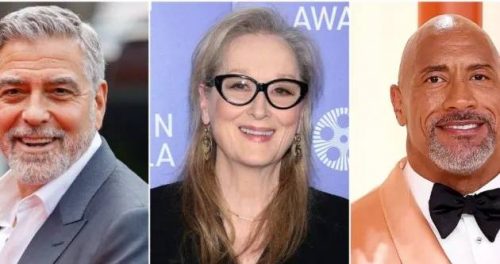 Unless you've been living under a rock, you're aware that the biggest actor strike in decades is playing out in Los Angeles and all around the country. But the large majority of actors in SAG don't have millions in the bank for a rainy day. Enter those who do.
According to SAG-AFTRA Foundation president Courtney B. Vance, the guild pulled in more than $15 million this month to help those living pay check to pay check can get some financial relief while they're out of work.
Last week, Variety exclusively reported that Dwayne Johnson had contributed a "historic" seven-figure donation, a figure which Vance described as "a call to arms" for everyone to "step up however you can."
But Johnson is not alone. More than a dozen A-listers have also answered the call, each donating $1 million or more, including George and Amal Clooney; Luciana and Matt Damon; Leonardo DiCaprio; Hugh Jackman and Deborra-Lee Furness; Nicole Kidman; Jennifer Lopez and Ben Affleck; Ryan Reynolds and Blake Lively; Julia Roberts; Arnold Schwarzenegger; Meryl Streep; and Oprah Winfrey.
"I appealed to our community to remember how tough it was coming up, and the response to help their fellow performers has been incredible, immediate and heartwarming," Vance said of their contributions, acknowledging Johnson, who "helped kick-start this campaign."
He then saluted Streep and Clooney, both longtime champions of the foundation and members of its Actors' Council, who "stepped up with $1 million donations, emails and many calls-to-action rallying others to give generously."