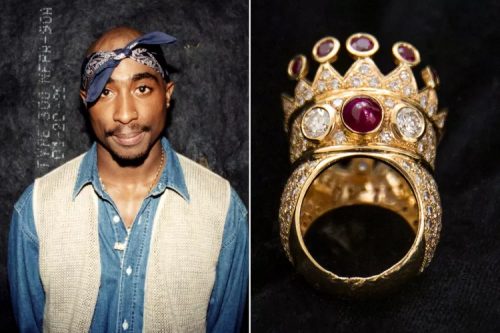 Tupac Shakur was murder 27 years ago and recently the people close to him have been taking stock in their dearest memories.
Yaasmyn Fula was Tupac godmother and close confidant and was the one person he trusted to help craft a one of a kind ring he'd only get to wear once before his death that same year. Now that ring has sold at auction for an astounding $1,016,000!
According to Cassandra Hatton, Sotheby's Global Head of Science and Popular Culture, "This one-of-a-kind, custom ring was meticulously designed by Pac and is among the final products of his boundless creative energy — a unique artifact from a period of time that is a testament to his enduring influence on Hip Hop."
The gold, ruby, and diamond crown ring became "the most valuable Hip Hop artifact ever sold at auction," according to the auction house.
Sotheby's added that Tupac's custom design was inspired by his affinity for Niccolo Machiavelli's political manifesto The Prince. The "Keep Ya Head Up" rapper also became known to fans as "Makaveli" after reading the text while incarcerated.