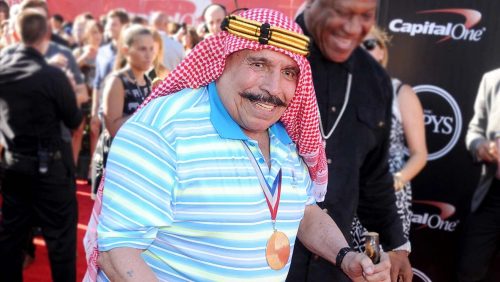 Even those completely removed from the world of Wrestling Entertainment know of the Iron Sheik. His name was nearly synonymous with the sport. Now the Sheik is dead at the age of 81.
The WWE Hall of Famer's representatives announced the former WWF World Heavyweight Champion's death in a statement on social media.
"Today, we gather with heavy hearts to bid farewell to a true legend, a force of nature, and an iconic figure who left an incredible mark on the world of professional wrestling," the statement reads. "It is with great sadness that we share the news of the passing of The Iron Sheik, but we also take solace in knowing that he departed this world peacefully, leaving behind a legacy that will endure for generations to come."

He is survived by his wife Caryl Peterson, whom he married in 1976, as well as his children Tanya, Nikki, Marissa and son-in-law Eddie. Sheik also had five grandchildren and two nephews.
The Iron Sheik, whose real name was Hossein Khosrow Ali Vaziri, was inducted into the WWE Hall of Fame in 2005 after an in-ring career that spanned four decades, starting in 1972.

"WWE is saddened to hear of the passing of WWE Hall of Famer The Iron Sheik, and extends its condolences to his family, friends, and fans," the promotion said Wednesday afternoon.