Every year a number of publications bring out their 'best of' lists to encapsulate the year. And a number of them do things on real estate.  This is my favorite. Courtesy of the good folks at Zillow, the list leaves off the working ranches, empty parcels and properties that are also a primary place of business.  These are just residential homes that will blow your little minds.
In alpha order. Follow the address link for their listing page and more photos!
Alabama
7 Montagel Way, Shoal Creek, AL 35242
For sale: $9.9 million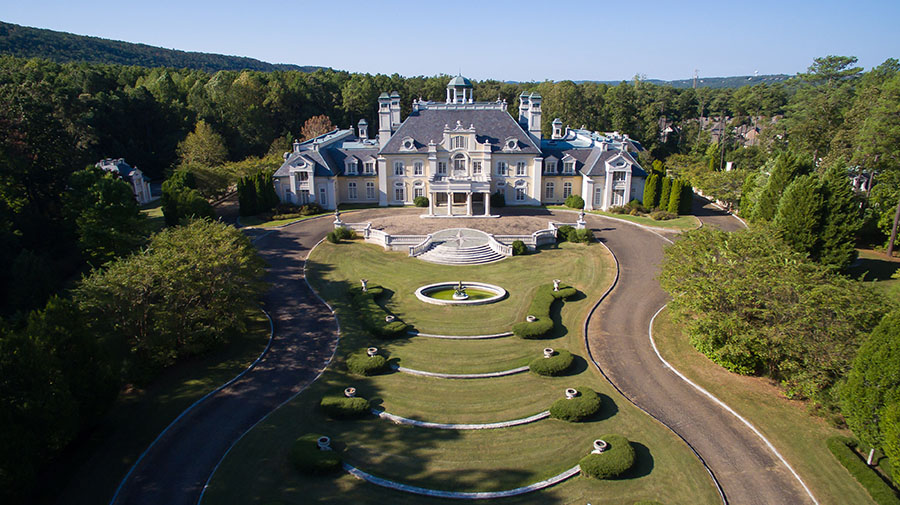 Reminiscent of a grand European castle, Chateau Montagel contains a beautiful marble foyer, 15 bedrooms, 22 bathrooms and a wine cellar that can hold 2,000 bottles of wine — European or not.
Alaska
74200 Alaskan Oceanside Paradise, Anchor Point, AK 99556
For sale: $3.9 million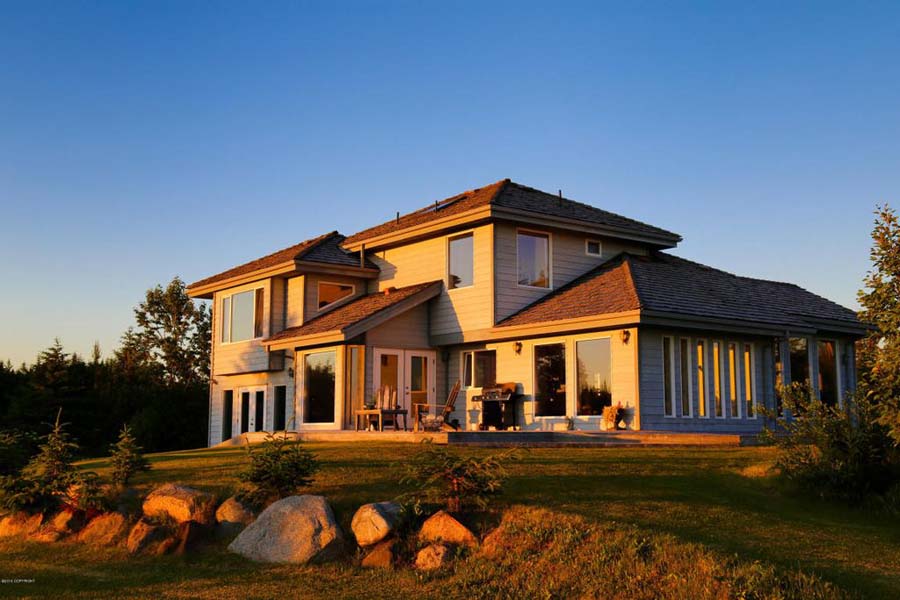 This beachfront home sits atop a historic gold mine site and is designed to allow light to flood the 4,322-square-foot residence from all sides.
Arizona
8055 N Mummy Mountain Rd, Paradise Valley, AZ 85253
For sale: $25 million

Located on 5 acres in Paradise Valley, this Mediterranean estate includes a private theater with tiered seating, a tennis court and a detached guesthouse.
Arkansas
9221 Moody Rd, Fort Smith, AR 72903
For sale: $10.9 million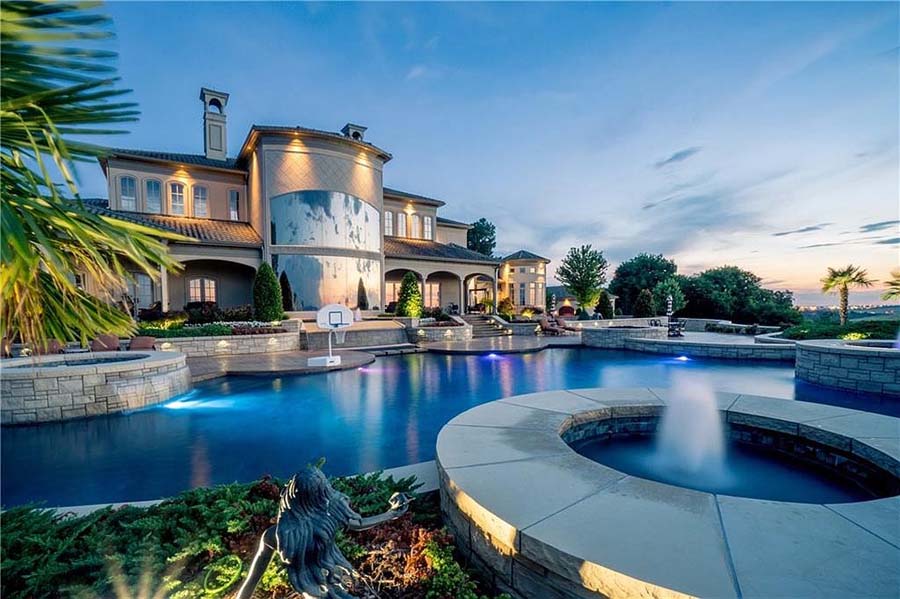 Impressive and elegant would be the best words to describe this breathtaking 18,000-square-foot home in Arkansas. The inside boasts marble staircases, Italian mantles and a kids' playroom complete with a redwood treehouse.
California
2500 E Valley Rd, Santa Barbara, CA 93108
For sale: $125 million
After nearly 100 years of being owned by one family, this 237-acre estate is on the market and features a 29,483-square-foot main house with notable architecture.
Colorado
125 Rooney Cir, Aspen, CO 81611
For sale: $80 million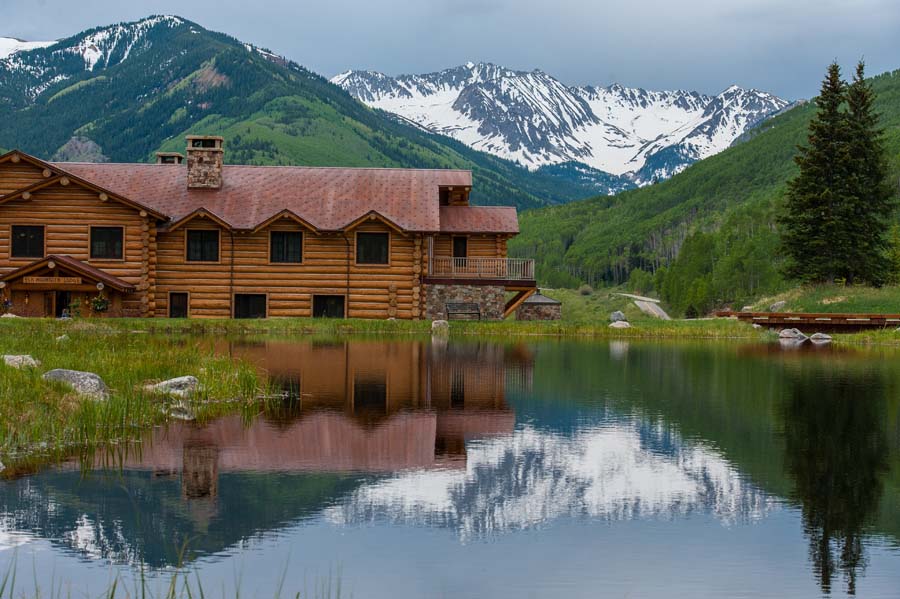 Billionaire Bill Koch has listed this 82-acre Aspen estate for sale. In addition to picturesque views, the cabin-inspired rustic home offers 25 bedrooms, a full-size indoor basketball court and proximity to downtown Aspen.
Connecticut
Great Island Rd, Darien, CT 06820
For sale: $175 million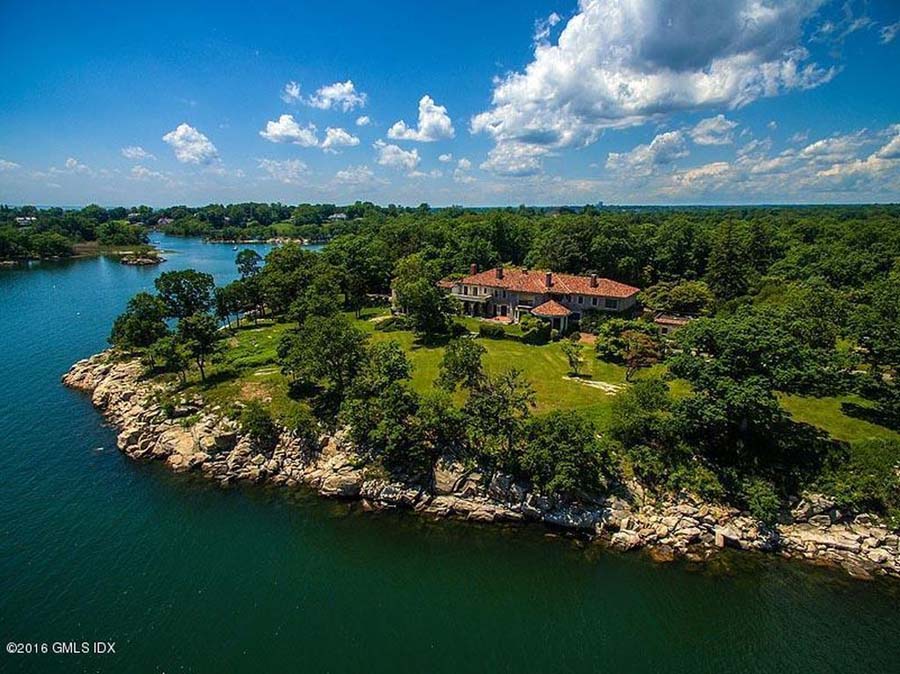 This serene waterfront island estate contains a 13,000-square-foot Italian stone manor with sweeping views of Long Island sound, its own beach house and a polo field.
Delaware
27 Hall Ave, Rehoboth Beach, DE 19971
For sale: $5.75 million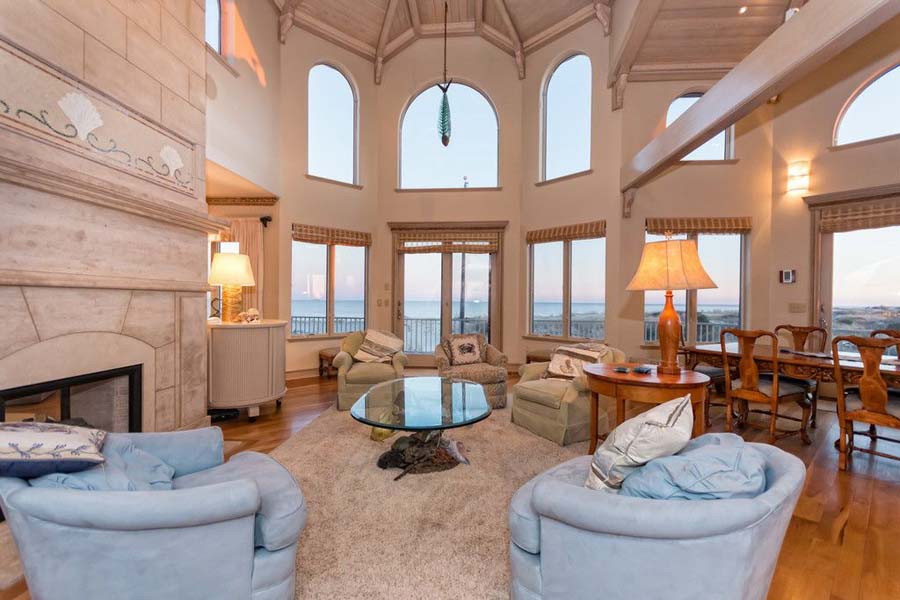 Unbeatable beachfront views, vaulted ceilings and a gourmet kitchen make this Delaware home a steal.
Florida
511 S Beach Rd, Hobe Sound, FL 33455
For sale: $64 million
While grand staircases are pretty common inside homes, this Florida mansion comes with an impressive one outside. Once you make the trek to the 21,865-square-foot main residence, you'll find water views (of the two backyard pools, the Atlantic Ocean, and the Intracoastal Waterway) from most of the 18 bedrooms, 26 bathrooms and countless other living spaces.
Georgia
Undisclosed Address
For sale: $48 million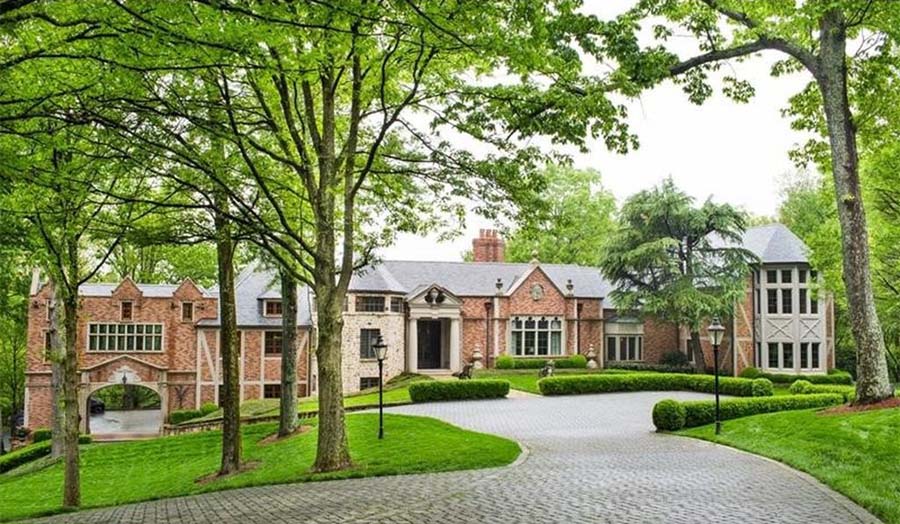 This exquisite Southern estate features stone terraces, gardens, and two private driveways — and it's being offered completely furnished.
Hawaii
4200 Anini Vista Dr # D, Kilauea, HI 96754
For sale: $31 million

The stunning mountains and shoreline views from this bedroom will make it hard to enjoy the rest of this impressively designed 10,320-square-foot home.
Idaho
126 Old Mill Rd, ID 83340
For sale: $25 million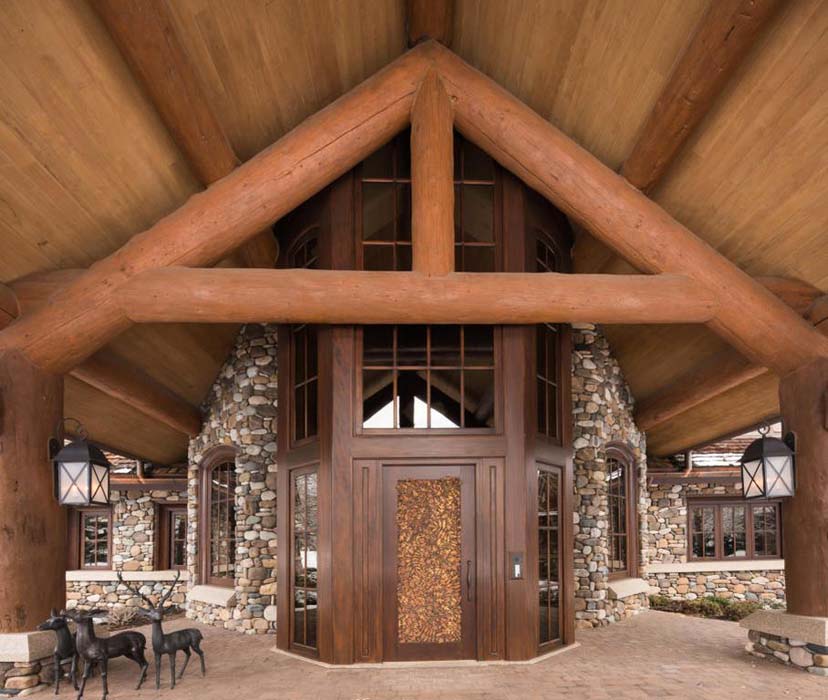 This 12-acre Sun Valley residence combines log and stone in its captivating exterior, while the interior highlights European craftsmanship.
Illinois
344 Old Sutton Rd, Barrington, IL 60010
For sale: $14.9 million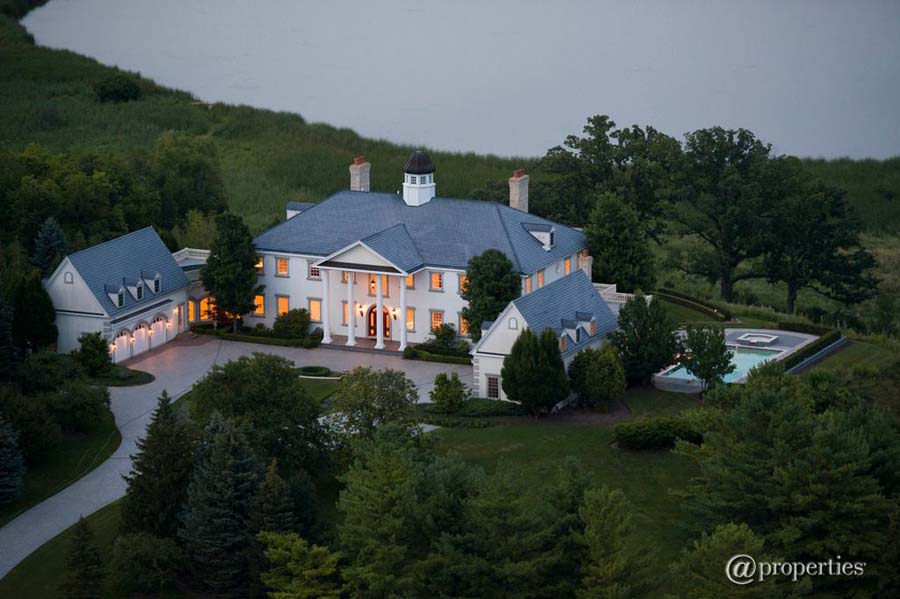 This White House-esque home sits on 14 privately gated acres with views of the rolling countryside. Inside you'll find refined stone work, a sauna, multiple steam rooms and a wine cellar.
Indiana
5501 W Hamilton Rd S, Fort Wayne, IN 46814
For sale: $30 million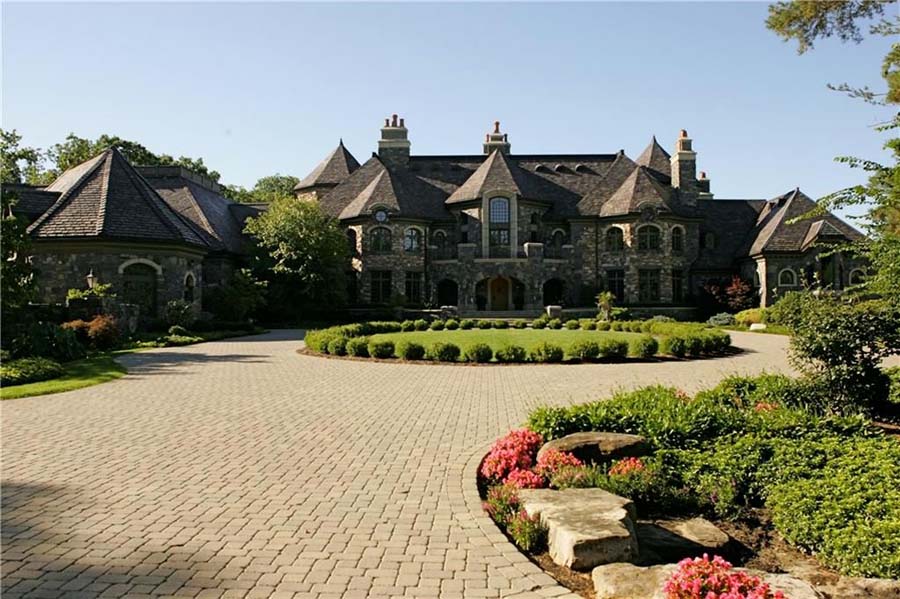 Ready to ride? This Midwest property includes a state-of-the-art equestrian facility, plus ponds, walking bridges and a castle-like main residence.
Iowa
16216 Ia-86, Spirit Lake, IA 51360
For sale: $10.9 million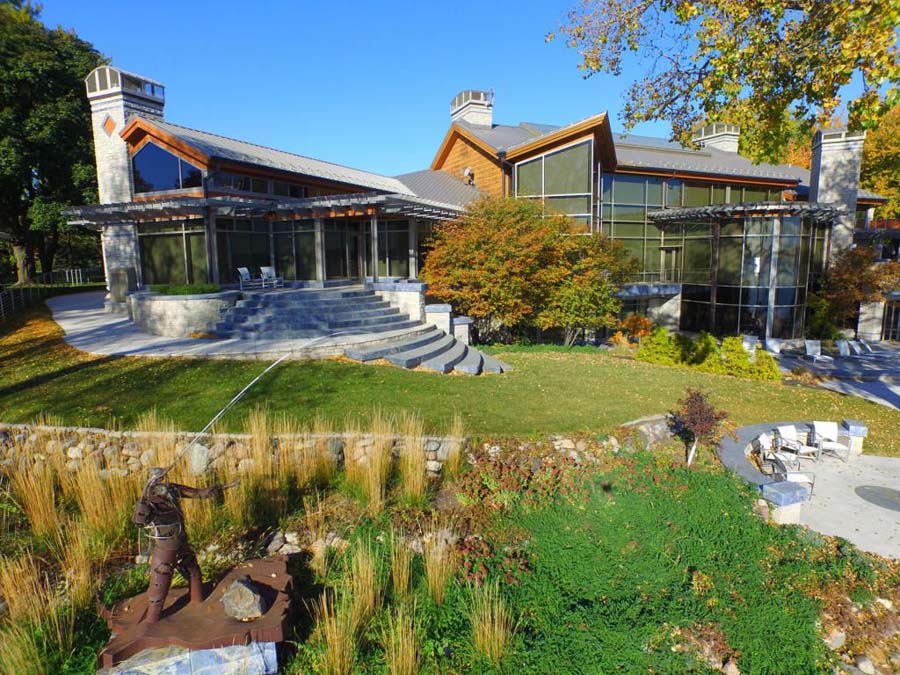 Despite having garage space for 10 cars, this futuristic-looking home might be better suited to parking a spaceship. The 2.55-acre property offers 24,000 square feet of living space, featuring a theater room, a private Irish pub called "Kevin O'Sullivans" and a chef's kitchen.
Kansas
6544 Wenonga Cir, Mission Hills, KS 66208
For sale: $11.7 million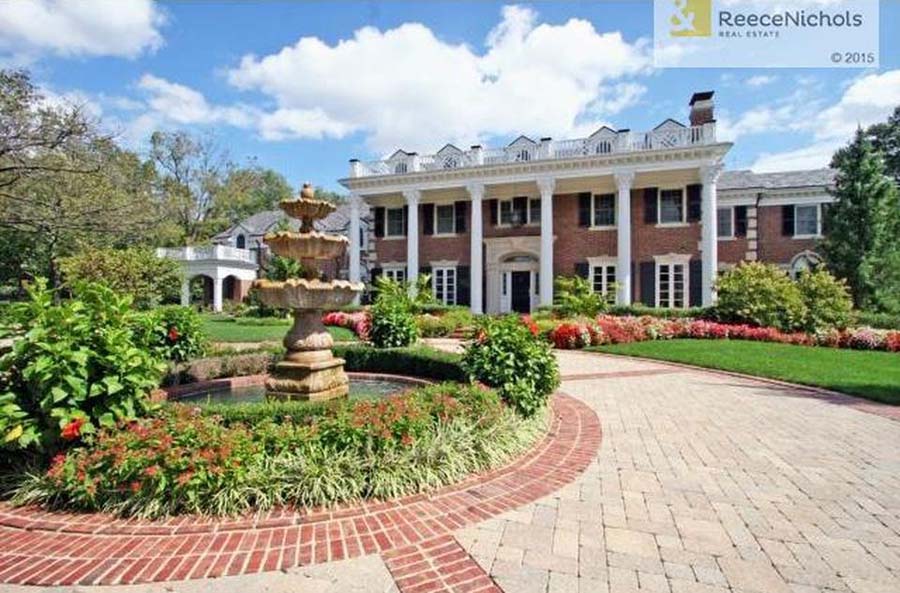 This Georgian-style mansion features beautiful grounds, hand-plastered Venetian walls, imported European floors and an infinity pool.
Kentucky
5802 River Rd, Prospect, KY 40059
For sale: $16 million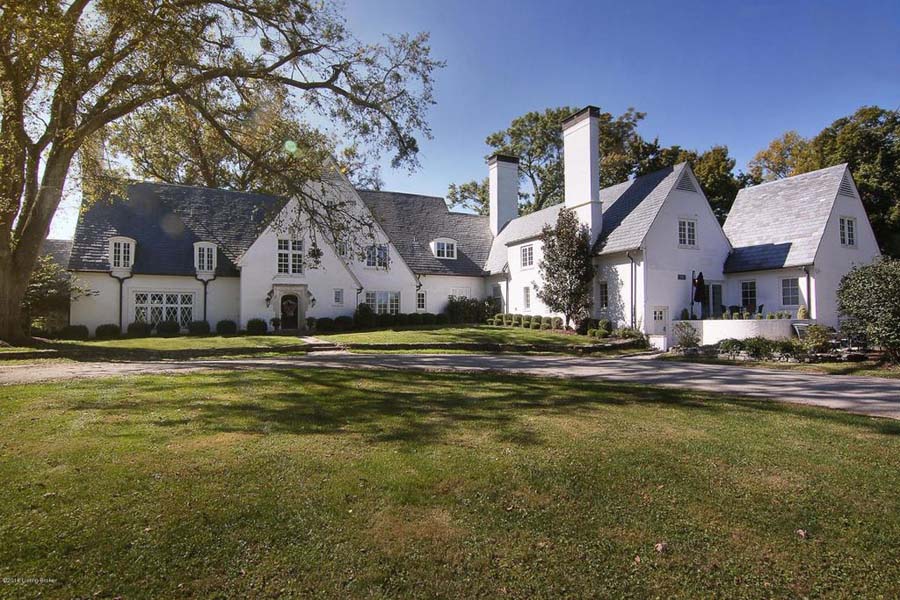 If you're worried about finding a place to stay during the Kentucky Derby, snag this home. Located just miles from Churchill Downs, this 158-acre estate includes a 24-stall barn and 30,000-square-foot outdoor arena.
Louisiana
3608 W Prien Lake Rd, Lake Charles, LA 70605
For sale: $6.2 million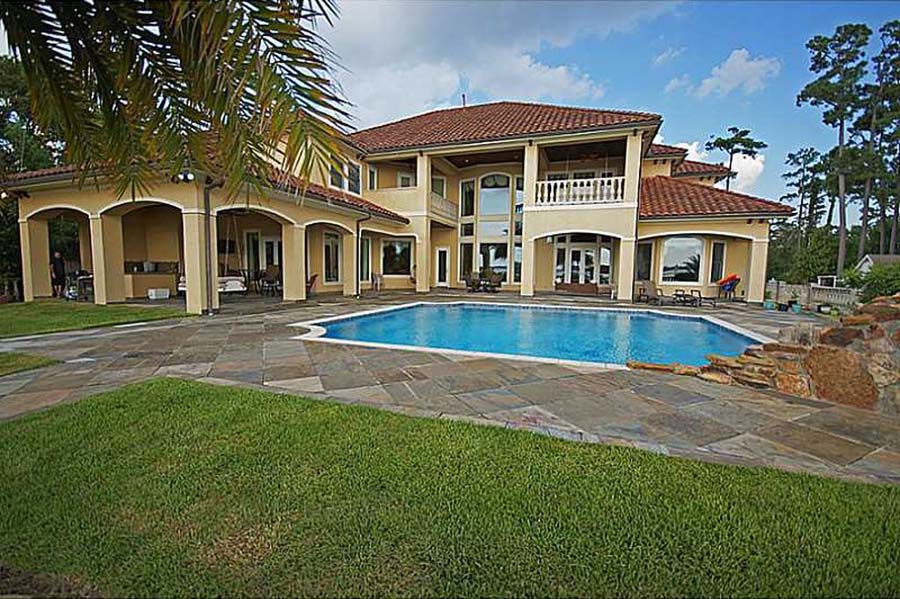 Complete with water views of Lake Prien, multiple balconies, and commercial-grade kitchen appliances, this home has it all.
Maine
144 Frazier Pasture Rd, Ogunquit, ME 03907
For sale: $12.6 million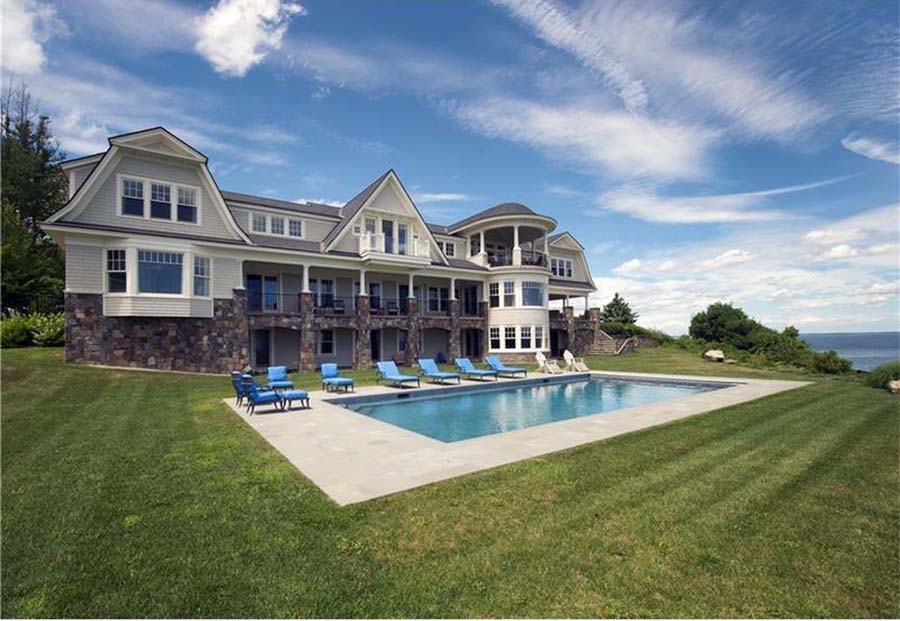 Only built in 2014, this 10,846-square-foot Cape Cod style mansion contains Calacatta marble counters, a saltwater pool, panoramic ocean views and geothermal heating.
Maryland
5517 Pembroke Rd, Bethesda, MD 20817
For sale: $18 million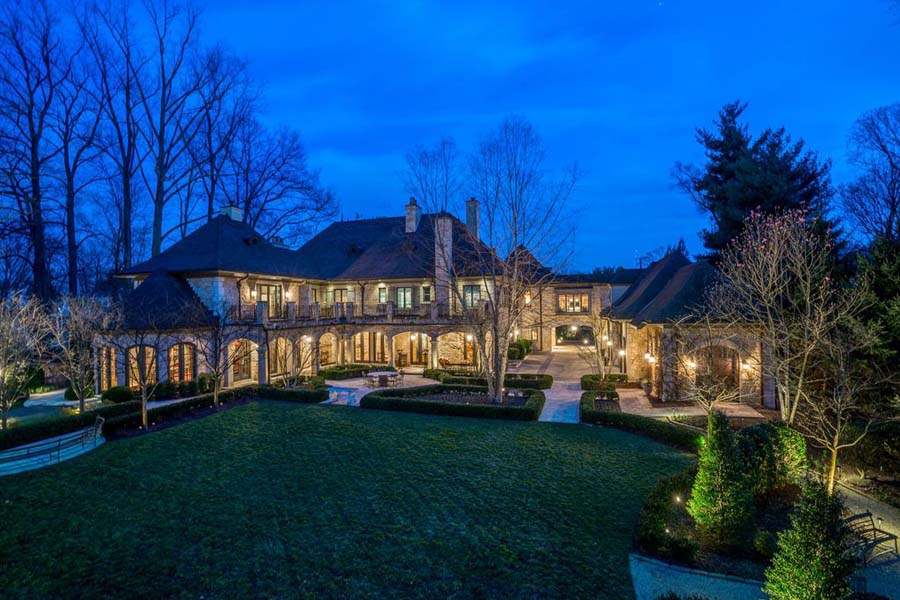 This phenomenal 20,263-square-foot Maryland property has been carefully crafted with thought to every feature, from the numerous different chandeliers to the gorgeously manicured gardens surrounding the backyard pool.
Massachusetts
150 Woodland Rd, Chestnut Hill, MA 02467
For sale: $90 million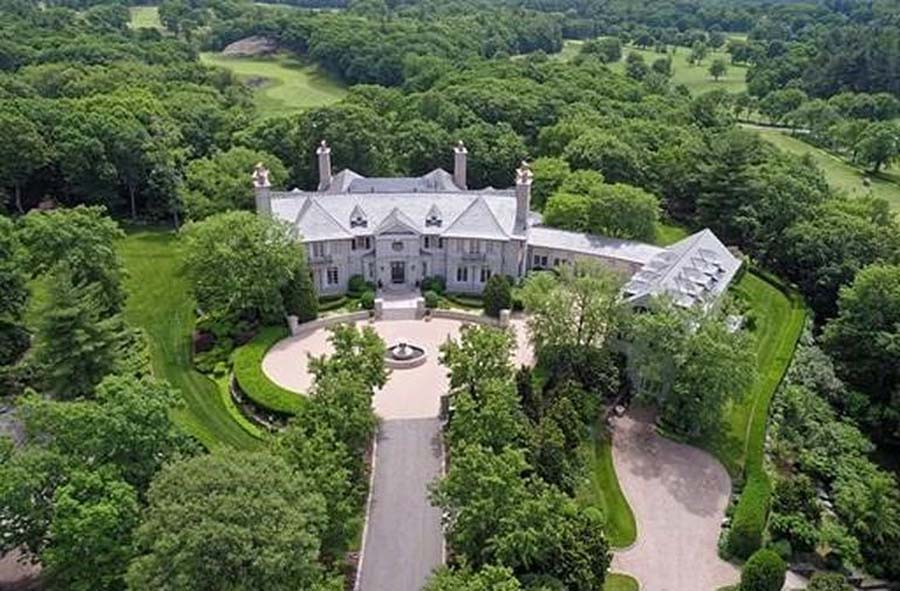 Just five miles from Boston, this home looks more like it belongs in the English countryside. The long private driveway leads to a majestic 26,623-square-foot residence that sits on 14 acres of rolling lawns, ponds and meandering pathways.
Michigan
1000 County Road Ke, Marquette, MI 49855
For sale: $19.5 million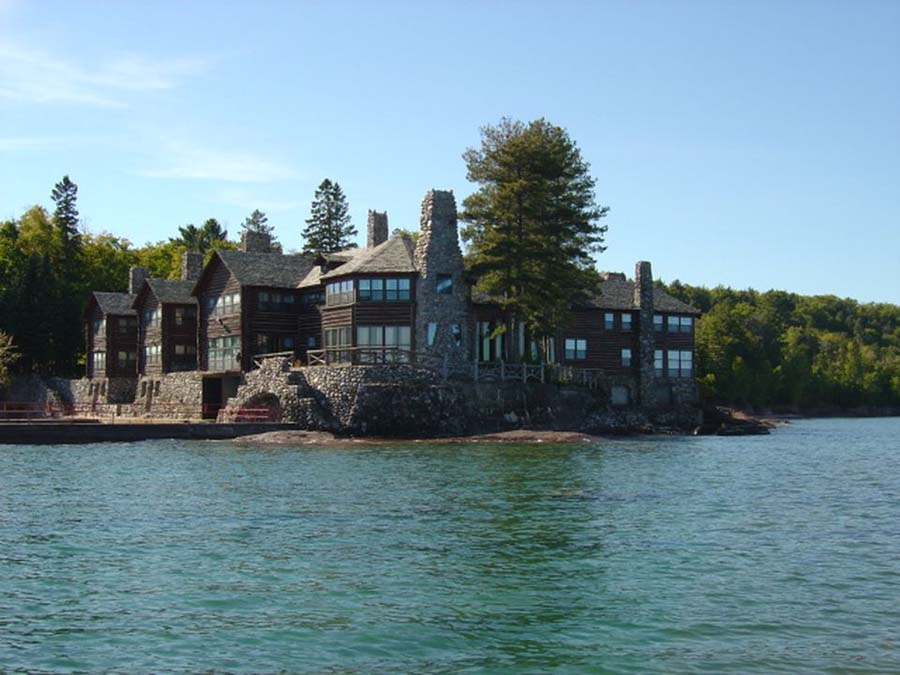 Known as Granot Loma, this 26,000-square-foot log cabin comes with an enormous hot tub, a private harbor, an apple orchard — and of course, a private island.
Minnesota
2825 Little Orchard Way, Wayzata, MN 55391
For sale: $11.9 million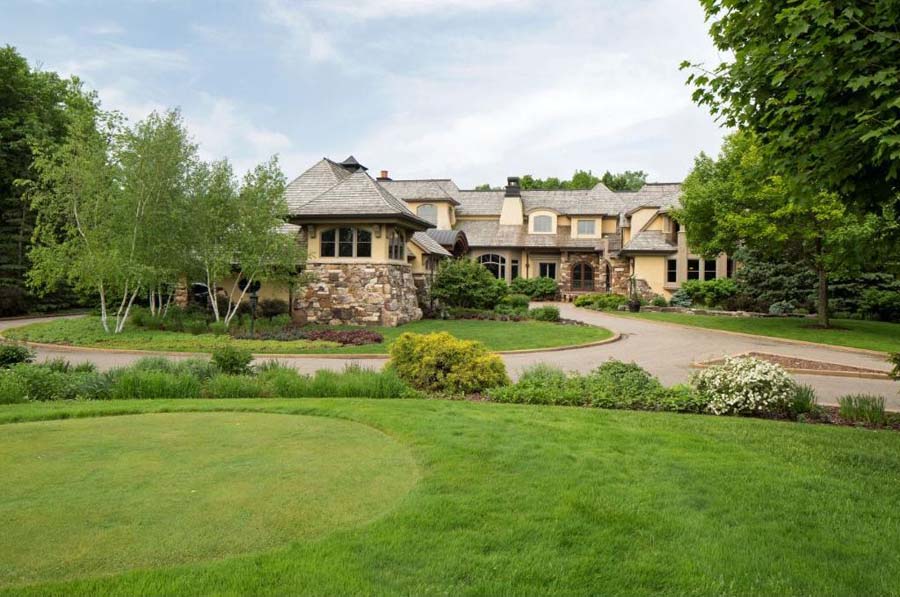 Practice your swing on the private 3-hole golf course on this property's grounds, or take the elevator up to the owner's suite wing of this 16,078-square-foot oasis.
Mississippi
845 E Scenic Dr, Pass Christian, MS 39571
For sale: $6.999 million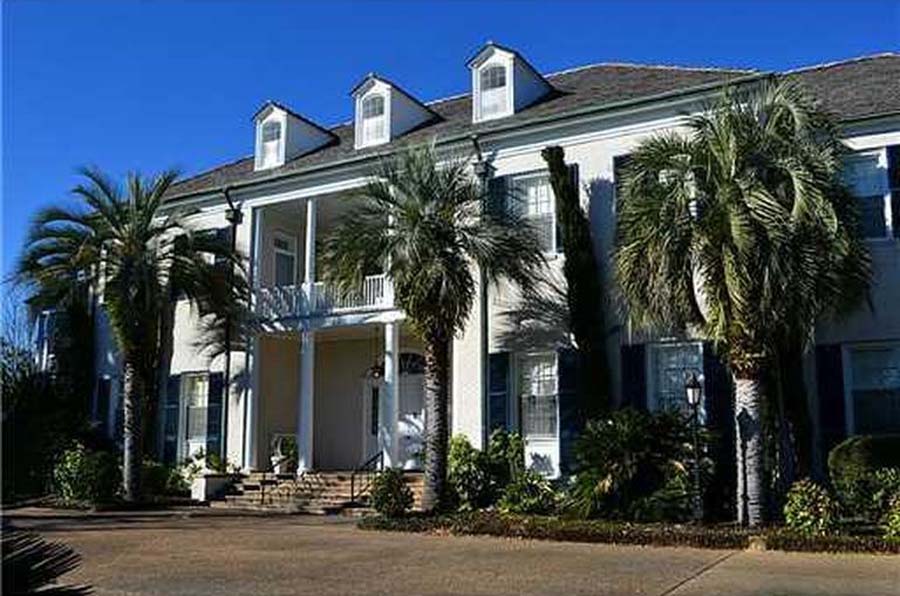 Experience the Gulf of Mexico from this beachfront estate, which boasts a library, 15 bedrooms, a grand dining room and two guest cottages.
Missouri
163 Chartwell Rd, MO 11111
For sale: $11.388 million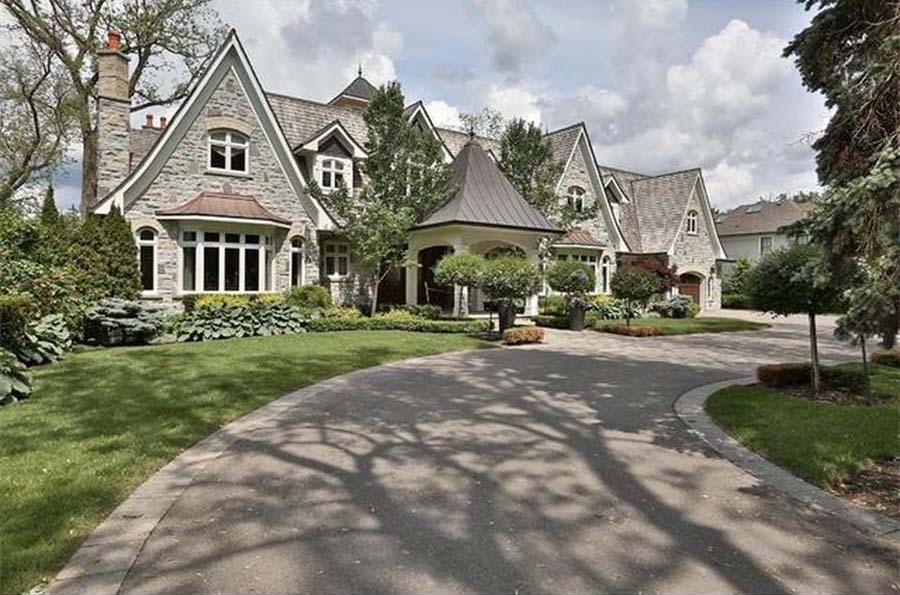 This French chateau-style home will impress you from the moment you set foot inside the private gates. Soaring cathedral ceilings meet marble floors and house a relaxation salon and a glass gym. Meanwhile, the backyard boasts a gunite saltwater infinity pool.
Montana
Montana's Shelter Is, Rollins, MT 59931
For sale: $39 million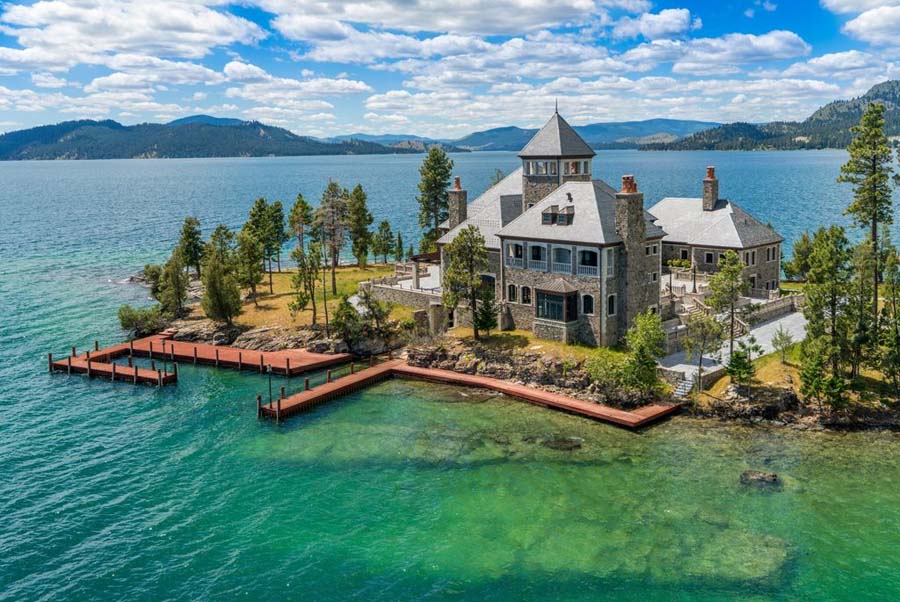 Located on one of the world's cleanest lakes, this secluded 22-acre Montana Island estate leaves nothing to be desired. The great room welcomes you to the 21,964-square-foot home with 45-foot ceilings and Carrara marble floors that continue throughout the numerous living spaces.
Nebraska
30202 Ida St, Valley, NE 68064
For sale: $2.5 million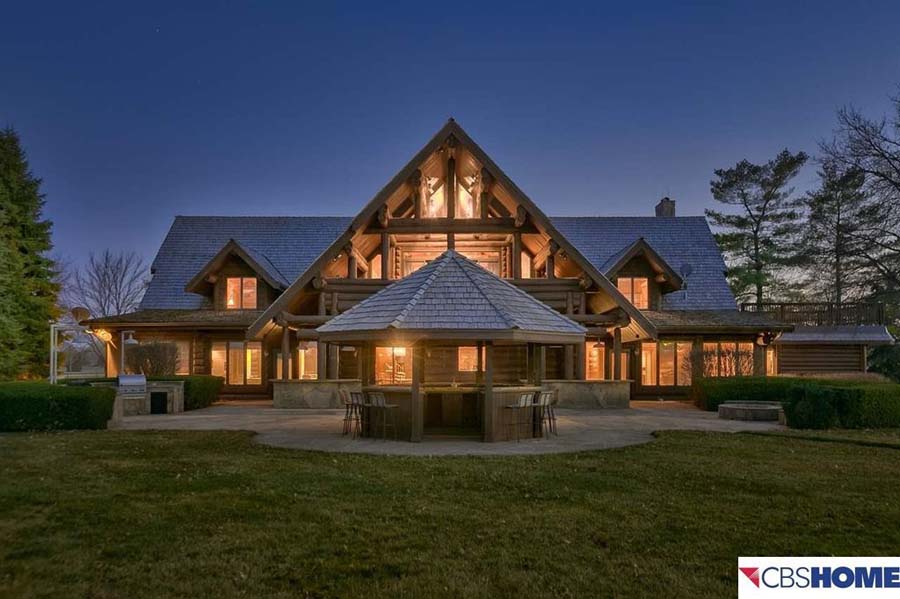 Situated on 75 acres of Nebraska Prairie, this log home is an equestrian's dream, thanks to its 14,000-square-foot riding arena, 3 outbuildings, and stables.
Nevada
550 Sierra Sunset Ln, Zephyr Cove-round Hill Village, NV 89448
For sale: $59 million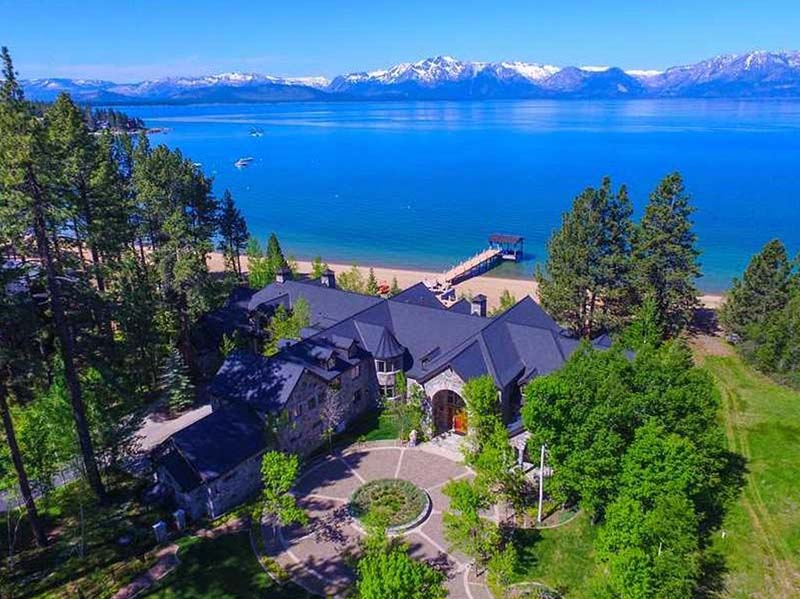 Next time you visit Nevada, it won't be for Las Vegas. Located on the popular Lake Tahoe, this property gets you beachfront access, a 12-bedroom main residence and a 15-stall horse barn.
New Hampshire
142 & 144 Hopewell Rd, Alton, NH 03809
For sale: $25.8 million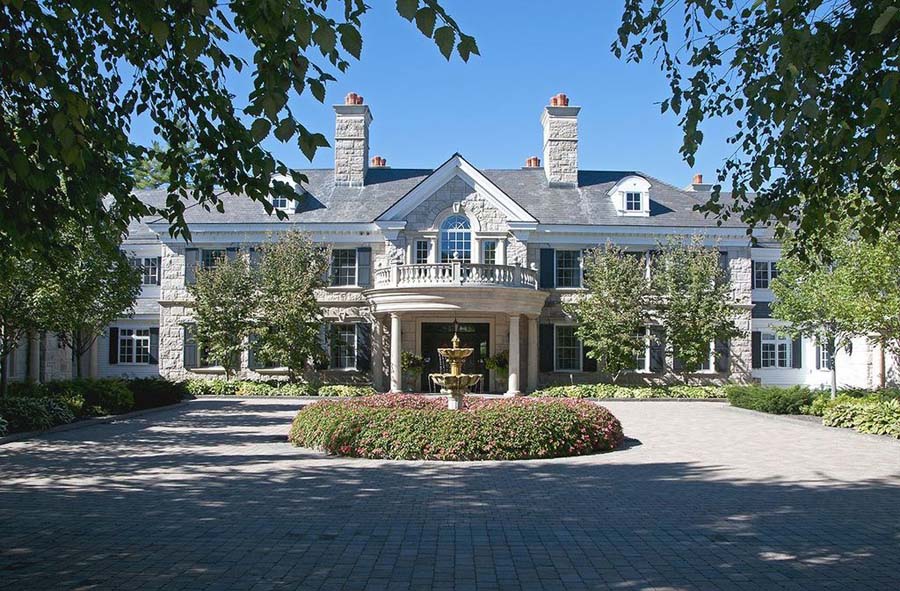 Spanning an expansive 63,029 square feet on the edge of Lake Winnipesaukee, this home is impressive in size and stature. Its impressive fountains aren't just outdoors either — a fountain room exists inside the house, too.
New Jersey
18 Frick Dr, Alpine, NJ 07620
For sale: $48.88 million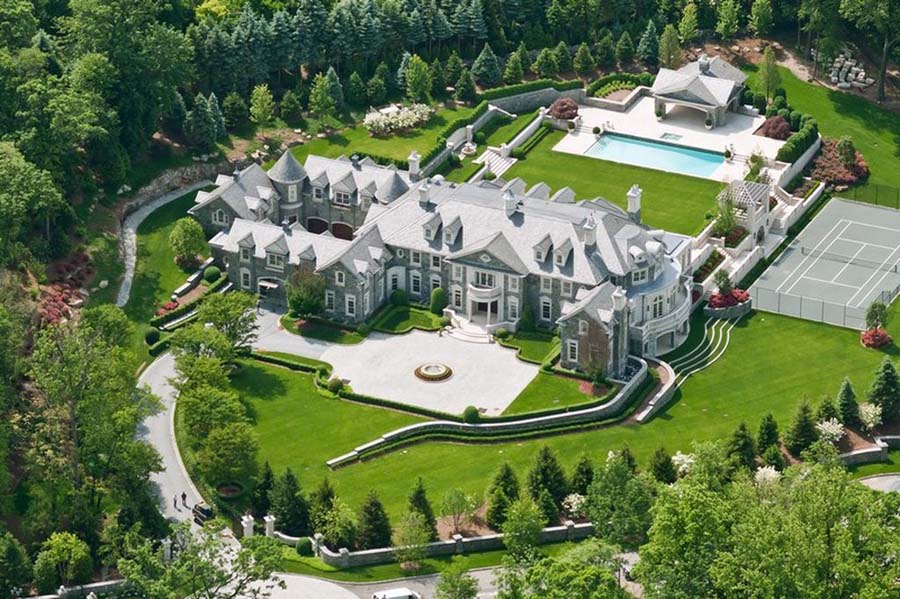 Merely eight miles from NYC, the Stone Mansion houses a 4,000-bottle wine cellar, 3 bars for entertaining, an indoor basketball court, a tennis court and more inside its stone facade.
New Mexico
117 Tesuque Rdg, Santa Fe, NM 87501
For sale: $13.65 million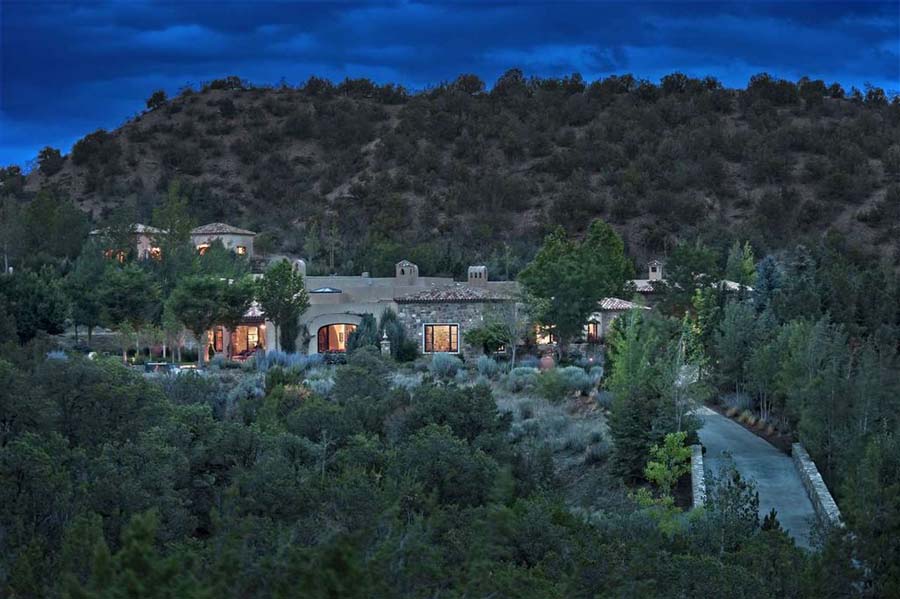 Nestled in the foothills of Santa Fe, this manor offers phenomenal views of the Sangre de Cristos from many of its rooms, which include a formal living room, a grand dining room, and a library.
New York
26 Pond Rd, Kings Point, NY 11024
For sale: $85 million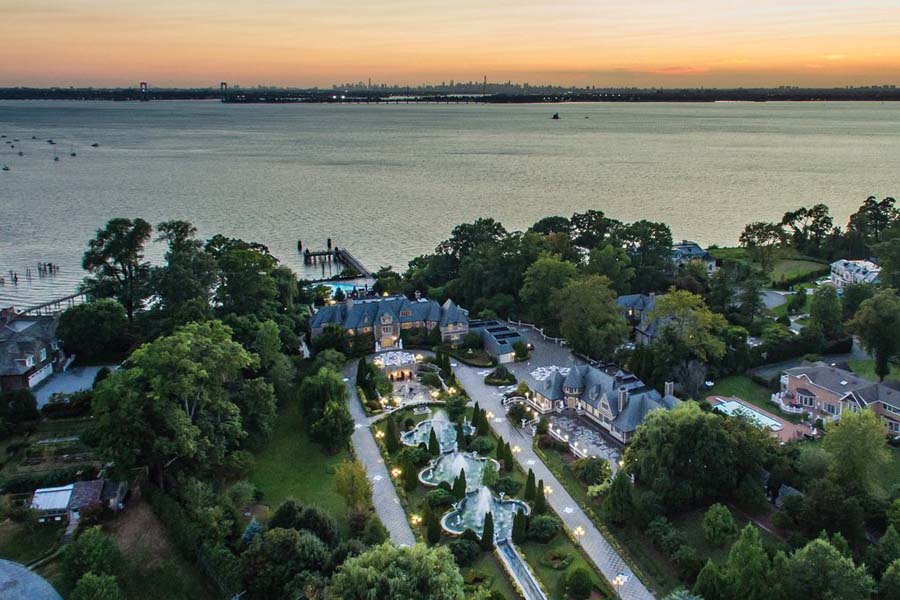 Why own one home when you can own three? This estate delivers it all — 8 waterfront acres, panoramic views of New York City, 3 palatial homes with smart technology, and a private dock.
North Carolina
234 Skycliff Dr, Asheville, NC 28804
For sale: $11.95 million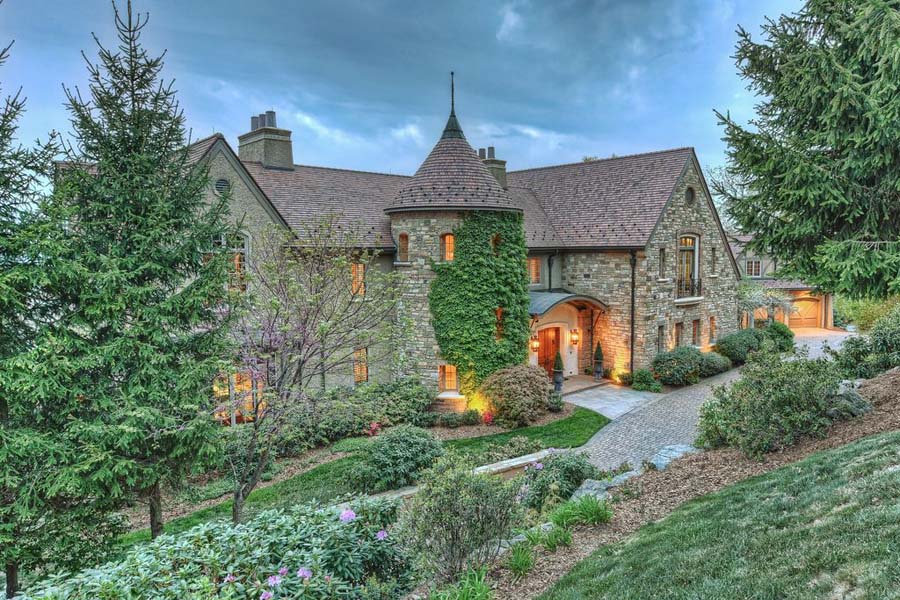 If the mountains are calling, answer them from this home: a European-inspired mansion with views of the Smokey Mountains, a picturesque balcony overlooking the hills, and barrel-beamed ceilings.
North Dakota
322 Sunset Bay Rd, Bottineau, ND 58318
For sale: $2.75 million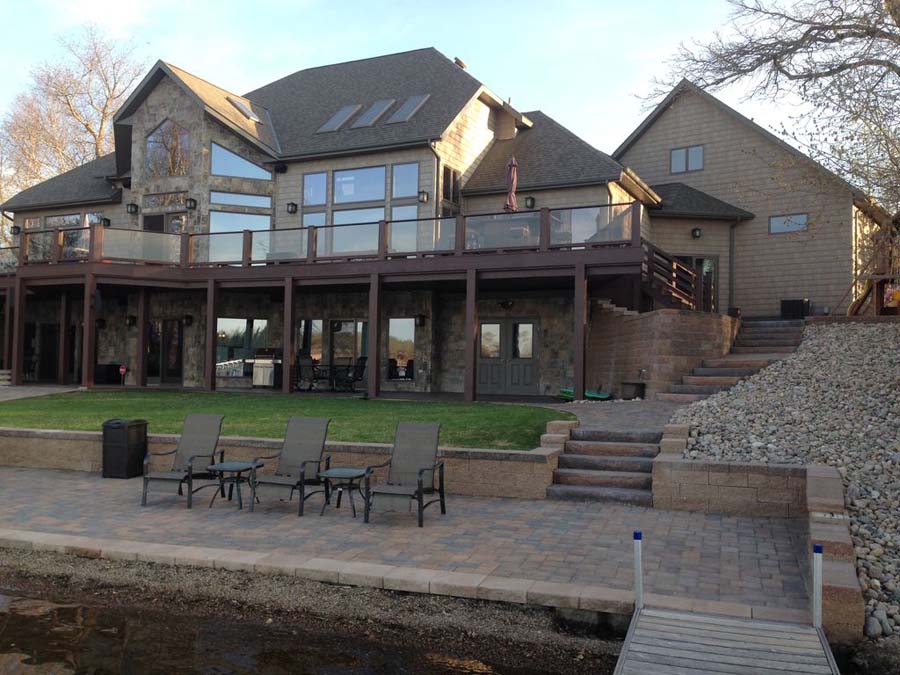 This custom-built home on the shores of Lake Metigoshe is designed for water views with floor-to-ceiling windows, an upper level balcony, and an open floor plan throughout.
Ohio
370 Twp Rd # 129, Zanesfield, OH 43360
For sale: $10 million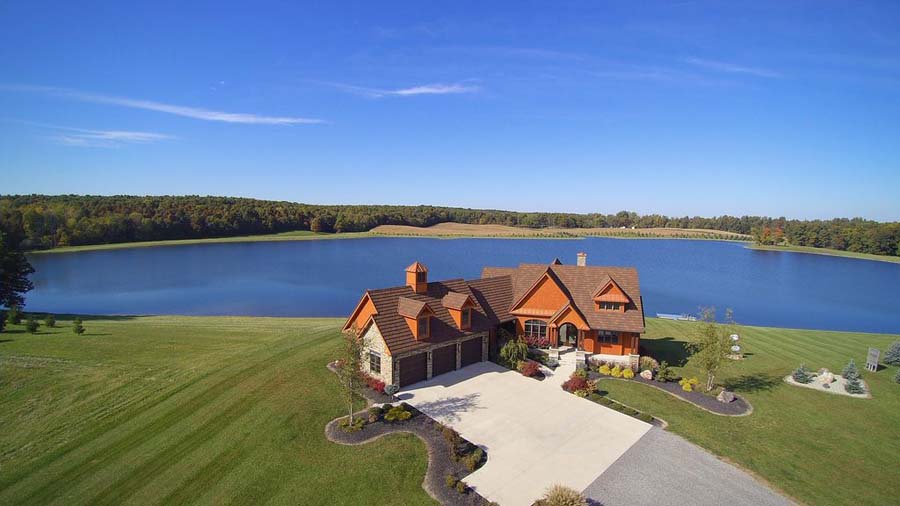 Not only can you own this tranquil home on 345 acres of land, but it actually comes with its own private 50-acre lake. The backyard pool party will take on a whole new meaning.
Oklahoma
4717 E 118th St, Tulsa, OK 74137
For sale: $7.8 million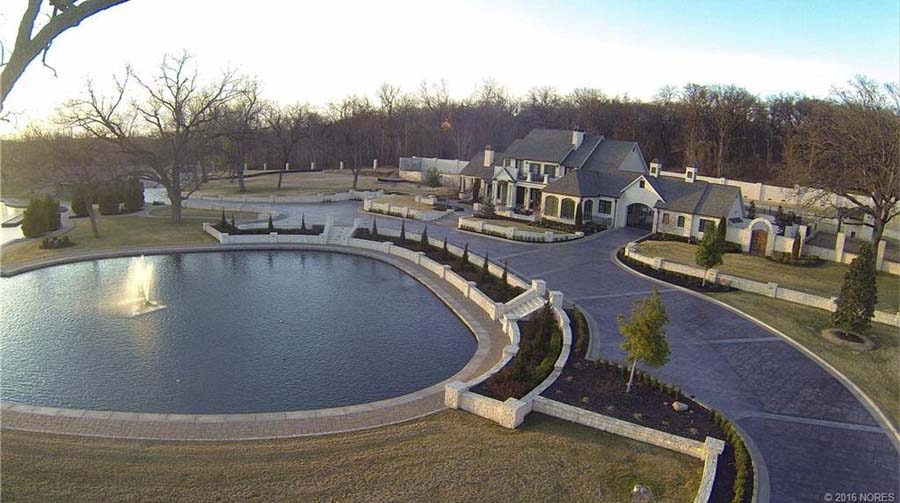 To see this house, you'll have to get past the guard house and private gate, after which you'll be met with a noteworthy pond and perfectly manicured grounds. Inside the 7,536-square-foot compound are contrasting dark wood and light marble finishes, a state-of-the-art kitchen complete with a Sub-Zero fridge and a spa-like master bath.
Oregon
16400 Jordan Rd, Sisters, OR 97759
For sale: $24 million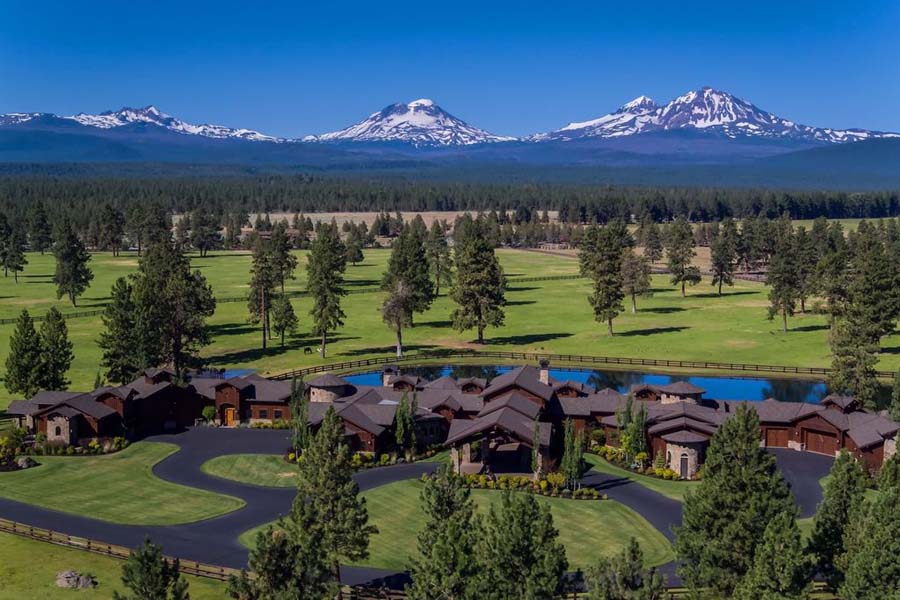 The natural beauty of Oregon is visible from all angles of this woodsy 14,666-square-foot estate. When you're not looking out the endless bays of windows, it'll be hard to pull your eyes away from the cavernous stone fireplace that takes up nearly the entire length of the living room wall and expands up toward the vaulted ceilings.
Pennsylvania
100 Maplehill Rd, Gladwyne, PA 19035
For sale: $28 million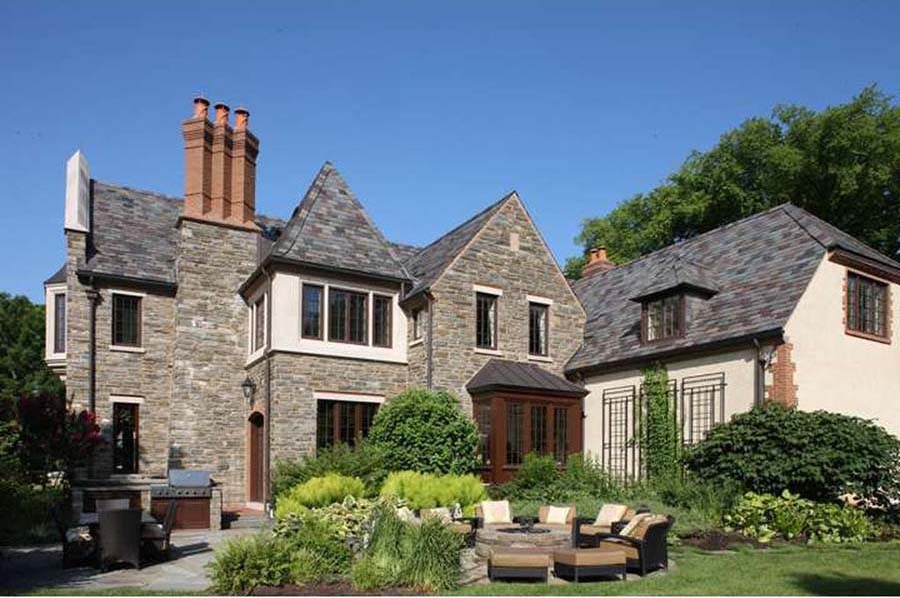 This classic East Coast home boasts a full stone exterior with limestone accents, private acreage and an impressive indoor pool with a self-closing seamless glass door.
Rhode Island
254 Ocean Ave, Newport, RI 02840
For sale: $17.5 million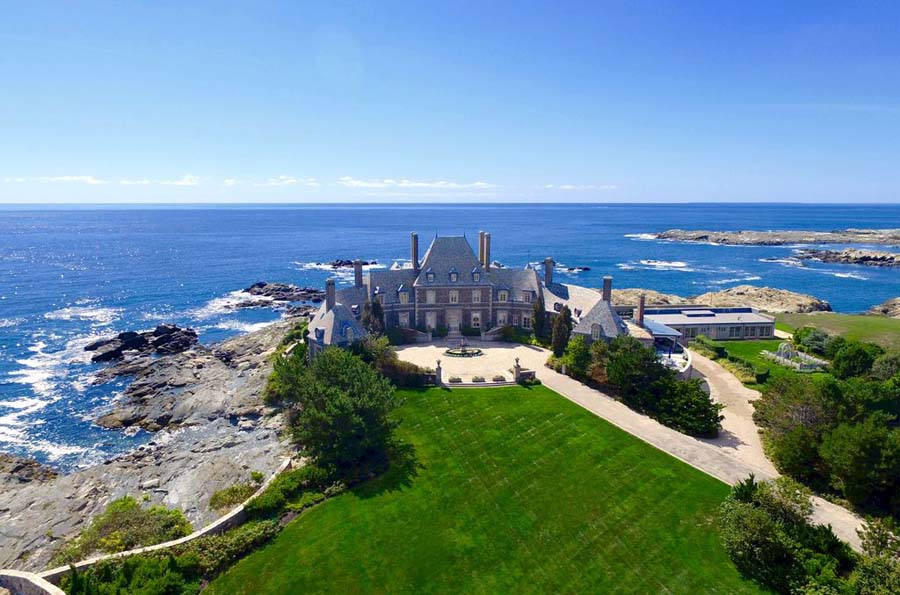 This breathtaking Louis XIV chateau sits on a peninsula overlooking the Atlantic Ocean with 270-degree views. Every aspect of this estate is grand — from the long, dramatic driveway to the backyard terraces overlooking the manicured backyard and the ocean beyond.
South Carolina
133 Flyway Dr, Johns Island, SC 29455
For sale: $22 million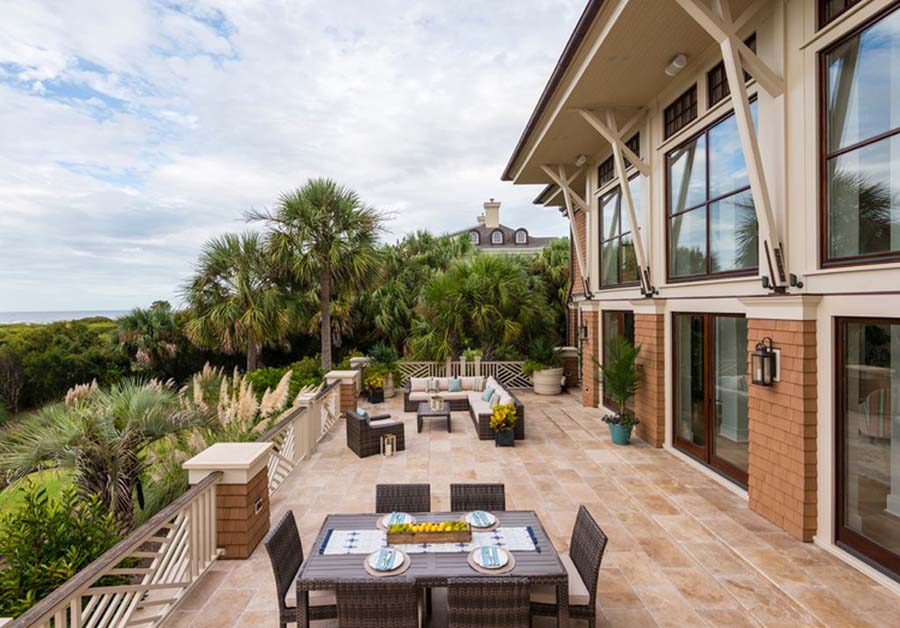 This Johns Island home has been touched by many architects and designers over the years, resulting in a varied, but perfectly melded, design. The interiors will remind you of Cape Cod beach homes, while the backyard could lead to a Malibu beach without being out of place. Put them together, and you've got a perfect beach house.
South Dakota
968 Wynstone Dr, Jefferson, SD 57038
For sale: $4.65 million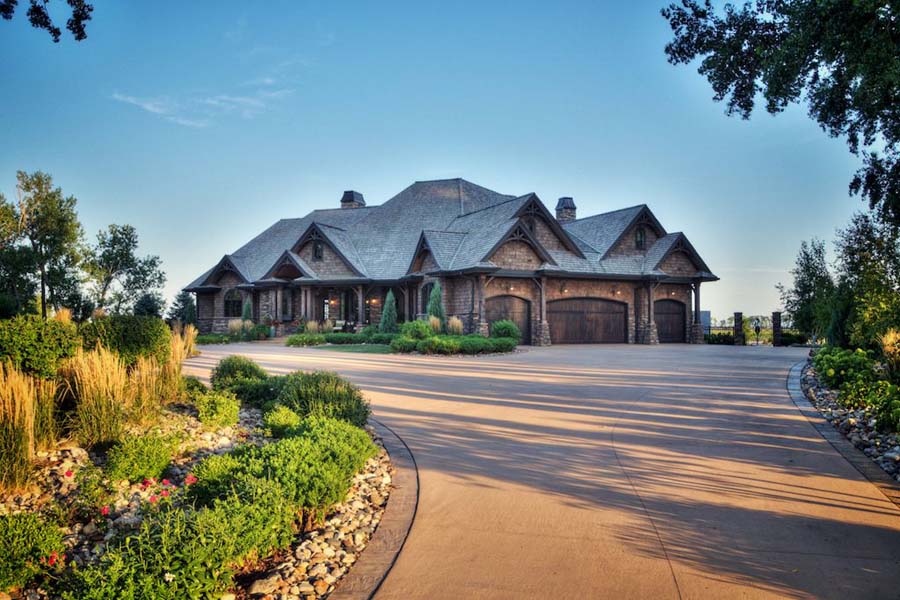 Own a piece of Missouri River frontage with this stunning 3.35-acre property in South Dakota. The careful craftsmanship is apparent in the hand-forged iron work, the custom on-site finished cabinetry, and the intricate tile and stone work.
Tennessee
615 River Rd, Kingston, TN 37763
For sale: $15.5 million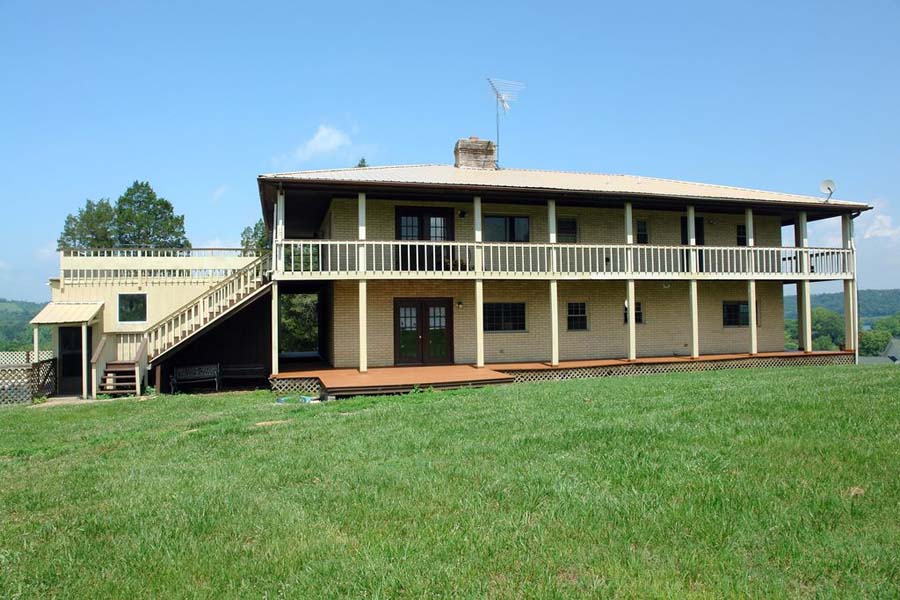 High on a hilltop, this 94-acre private estate offers spectacular river views, 2 wrap-around verandas and 3 fireplaces.
Texas
5950 Deloache Ave, Dallas, TX 75225
For sale: $28.5 million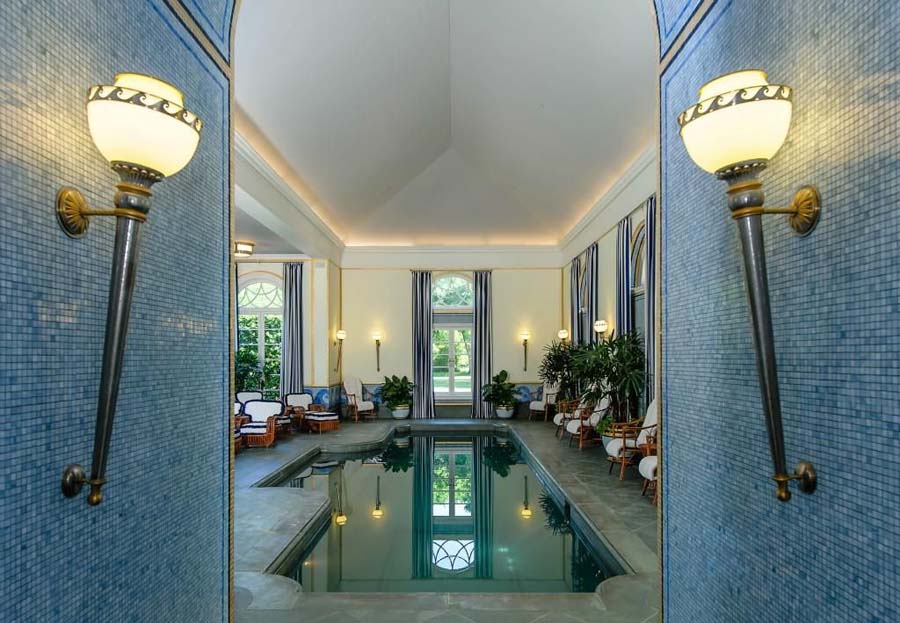 This elegant Preston Hollow estate ushers you in through a dramatic black-and-white foyer with a spiral staircase. Further inside, you'll find a stunning white marble bathroom, an indoor pool and hot tub room, and a beautiful library with built-in wooden bookshelves.
Utah
Undisclosed Address
For sale: $25 million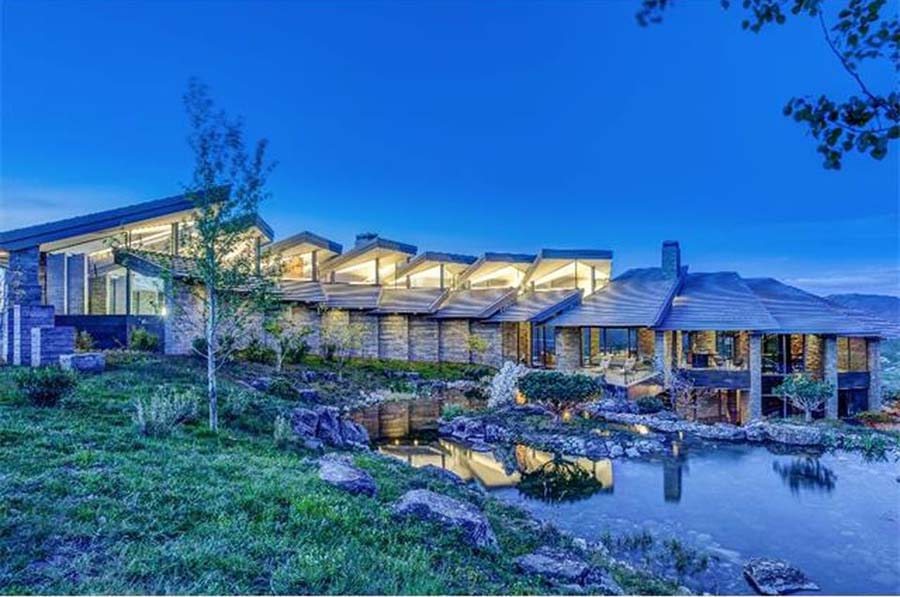 The mountain and lake views from this Utah home — built from a unique combination of Italian stone, concrete, steel and glass — are unsurpassed. With 7,996 square feet of space and a grand terrace outdoor area, you'll want to entertain every weekend so your friends can catch some breathtaking sunsets as well.
Vermont
506 N Hill Rd, Stowe, VT 05672
For sale: $12.5 million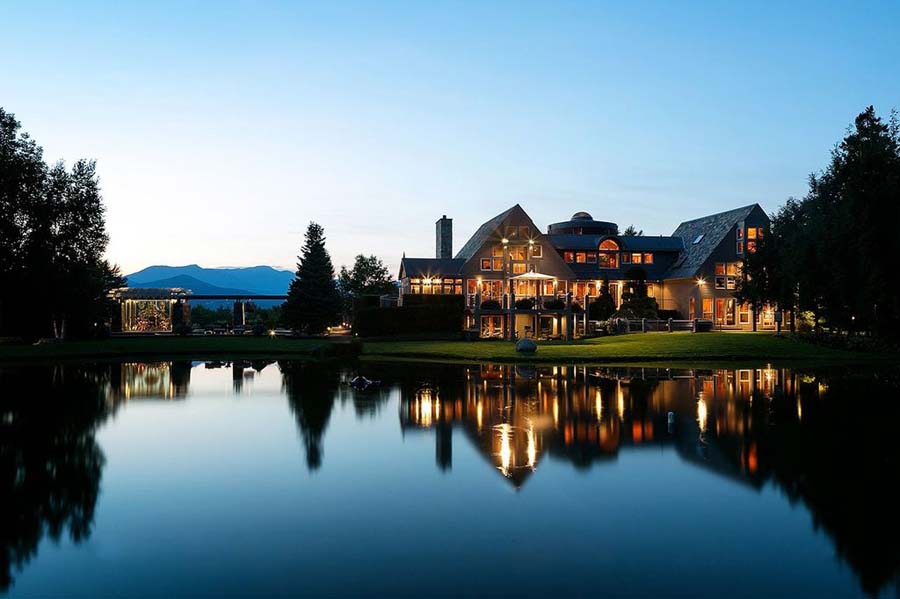 This secluded Vermont home comes with a miniature golf course, a shooting range, an orchard and its own zip line — which hangs over one of the two private ponds.
Virginia
205 Silver Tee Dr, Penhook, VA 24137
For sale: $25 million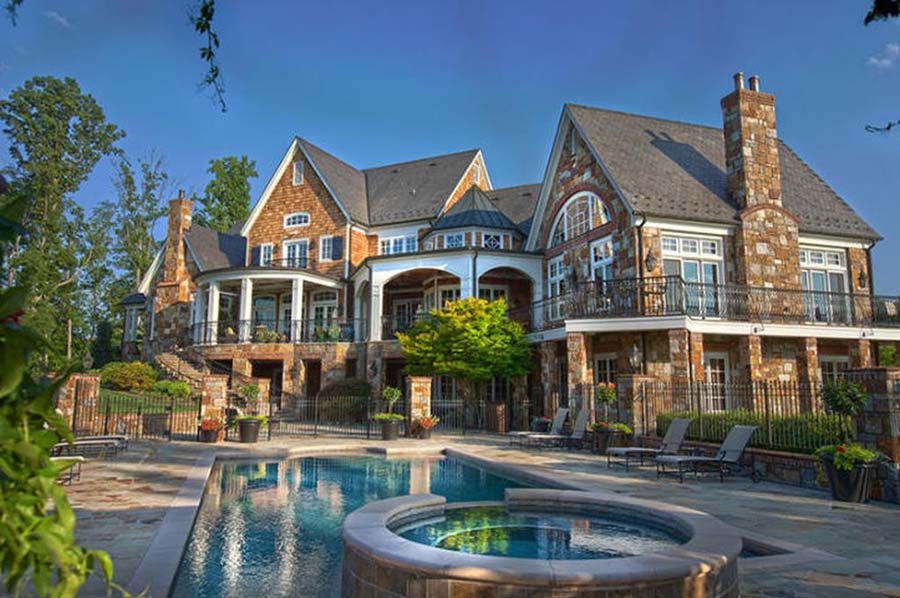 You can choose to take a dip in the backyard pool, the hot tub, or the lake that's merely yards away from this custom-built Virginia home. Afterwards, you can screen a flick in the home theater, or grab a meal at the nearby country club.
Washington
12011 SW 220th St, Vashon, WA 98070
For sale: $33 million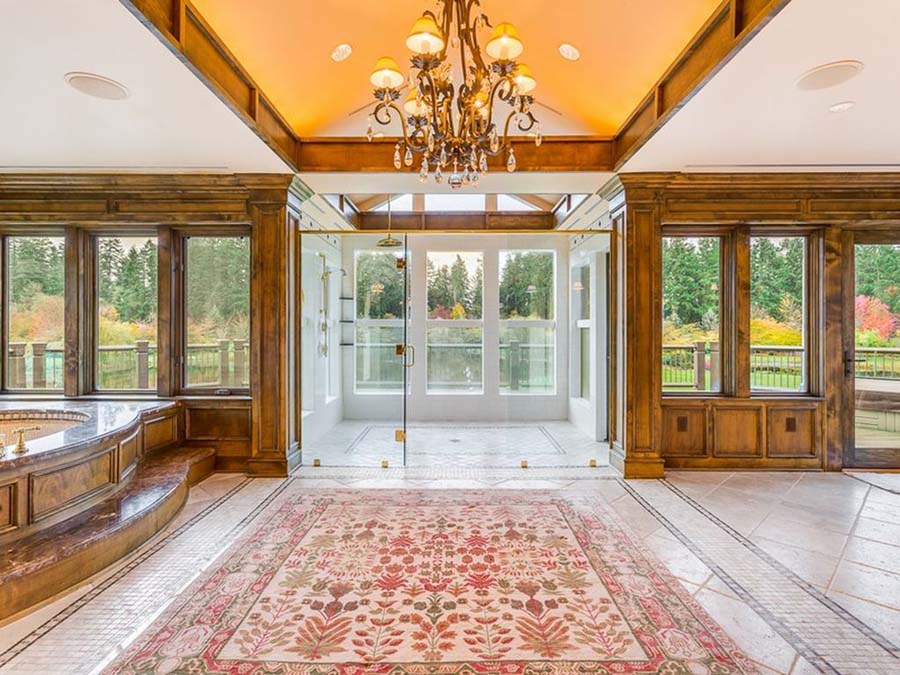 This Pacific Northwest estate is a horticulturist dream, with over 3,000 planted trees and nearly that many types of flowers and shrubs located right on the grounds — carefully curated from all over the world by the previous owners. Also accompanying the 6,500-square-foot main residence is a private driving, chipping and putting area.
West Virginia
230 Quarry Rdg E, Charleston, WV 25304
For sale: $17 million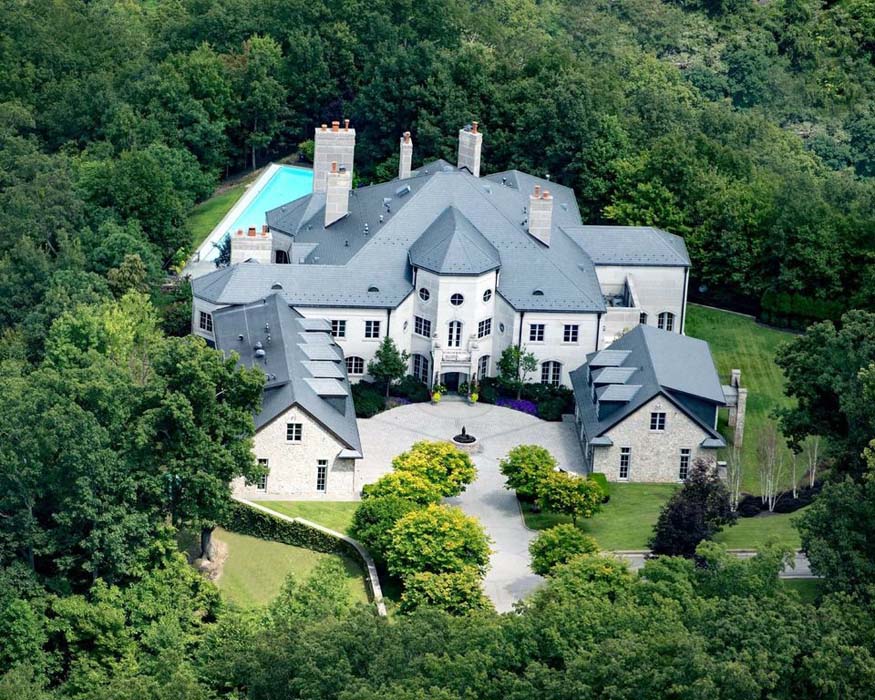 If you've ever wanted to live in a mountaintop community, this 19,000-square-foot house presents just the opportunity to join one. While you might be a little farther from the city, you can entertain friends in the backyard with a pool party or a quick game of tennis on your private court.
Wisconsin
W3245 Snake Rd, Lake Geneva, WI 53147
For sale: $14.5 milion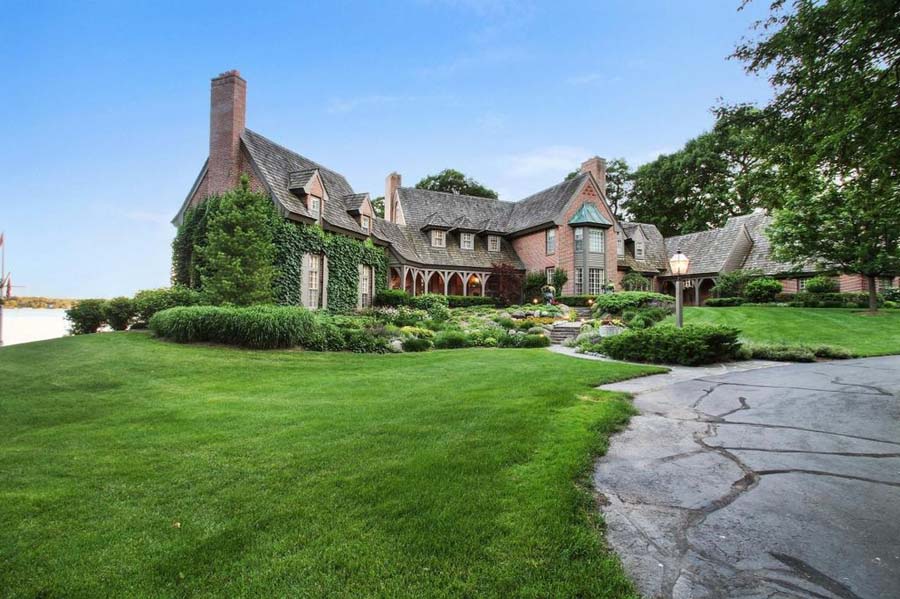 This former Wrigley Estate, known as Hillcroft, stands along 415 feet of frontage on the coveted shores of Lake Geneva. Not only does this home carry a famous history, it also boasts park-like grounds and an 11,000-square-foot main residence.
Wyoming
640 Clearwater Ln, Thayne, WY 83127
For sale: $33.9 million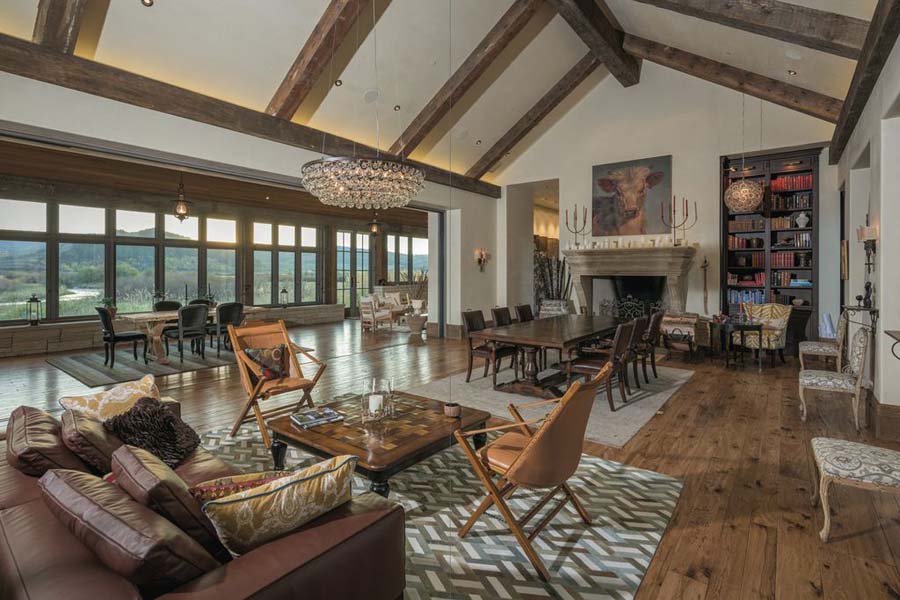 Known as the Cakebread Ranch, this stunning home is accompanied by 4.5 miles of private waters on the Salt River, a late 1700s walk-in fireplace, and hand-tooled hickory flooring.