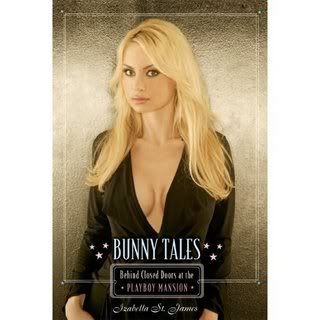 I was driving around the city this morning, flipping through the radio stations, when a convo on Star 98.7 caught my attention. The woman being interviewed was Izabella St. James, a former live-in girlfriend of Hugh Hefner. Apparently she's authored a tell-all, Bunny Tales: Behind Closed Doors at the Playboy Mansion. Her interview implied that perhaps — shocker! — life as one of Hef's girlfriend's isn't all fast cars, fancy clothes and mind-blowing sex. She implied that Hef is possessive and controlling — the girls have a 9 pm curfew, and when they're out in public they are always followed by guards, even to the bathroom, to insure they're not messing around on the side (she said most of them are anyway) — she implied that Hef's oldest son is gay and basically confirmed that his current #1 girl Holly is every bit the insane Hef-pleasing zombie she appears to be on Girls Next Door.
I'll be picking up this book this weekend and will have any and all wonderfully juicy tidbits for you next week.
If anyone can find a link to the transcript of the STAR 98.7 interview (it aired around 8:30 am today), please send it my way.
Get the book: