Playboy
Sunday afternoon my friend Deanna Brooks invited me to hang out with her at the Playboy Mansion. Deanna was a Miss May 1998, and after being around the Mansion for over a decade (yes, a decade. She looks 22 still. It's ridiculous), she knows a ton about the property's history. The video above is essentially a six minute tour around the house that I get slightly drunk during. I mean, it ends with me jumping off the top of the grotto into the pool, so you know I wasn't totally sober. It's also maybe NSFW because there is one butt and one pair of boobs in it, but only for a second. Also, it's the Playboy Mansion, so I guess just use your head before you click the video. I don't know where you work.
The highlights of the Mansion was definitely the zoo (did you know the Mansion is licensed as a zoo!?) They have like, fifty monkeys! And both human and non-human bunnies are running loose on the property at all times! Bananas! And there's a full bar! And everyone's so nice.
So, if this interests you, I hope you enjoy it. Follow Deanna on Twitter. And me too, if you want.
June 29, 2010 at 1:30 pm by Molls
I don't, 'cause I'm not into that whole shock-type of visual assault, but I'm sure there's got to be a market for something like this somewhere or another.
Rachel Uchitel, the mistress of both Tiger Woods and David Boreanaz (and God knows who else), is taking Playboy up on their offer to pose nude for the illustrious skin mag. However, she's not willing to show her gilded promised-land cooter — the mistress is only interested in showing her fake tits and plastic ass.
It seems like only yesterday she was mourning the loss of her boyfriend who was killed during the 9/11 attacks. Uchitel was quoted earlier in the decade stating that she doesn't think of her former fiance with regret any longer:
"When I think of Andy I no longer cry. I smile and I laugh. I'm at that point now. I can go on everyday knowing that somebody like him chose me to love."
After she lost her Andy in the attacks, she found love and solace in the arms of a former classmate, Steven Ehrenkranz. Although some "insiders" claimed that Uchitel was a ho with a penchant for married men (Uchitel had a "history of being with married men" and had been called "self-destructive.") Ehrenkranz blindly married the cock-bandit in 2004 and the couple divorced four months later. Gotta dig that ever-lasting kind of love.
My my, how far we've come Ms. Uchitel. Wherever they are, your Andy and your ex-husband must be so damned proud of you. Keep on keepin' on, woman: your next investment Hef calls.
May 17, 2010 at 8:28 am by Sarah
John Mayer cannot even be serious right now. I already posted a snippet from his Playboy interview in Quotables today, but you guys: I had no idea how real this shit gets. John Mayer says some mad racist-sounding stuff in this interview. And he talks about fucking people again.
Here are some more soundbites for you to try and digest:
PLAYBOY: If you didn't know you, would you think you're a douche bag?

MAYER: It depends on what I picked up. My two biggest hits are "Your Body Is a Wonderland" and "Daughters." If you think those songs are pandering, then you'll think I'm a douche bag. It's like I come on very strong. I am a very…I'm just very. V-E-R-Y. And if you can't handle very, then I'm a douche bag. But I think the world needs a little very. That's why black people love me.

PLAYBOY: Because you're very?

MAYER: Someone asked me the other day, "What does it feel like now to have a hood pass?" And by the way, it's sort of a contradiction in terms, because if you really had a hood pass, you could call it a nigger pass. Why are you pulling a punch and calling it a hood pass if you really have a hood pass? But I said, "I can't really have a hood pass. I've never walked into a restaurant, asked for a table and been told, 'We're full.'"

PLAYBOY: It is true; a lot of rappers love you. You recorded with Common and Kanye West, played live with Jay-Z.

MAYER: What is being black? It's making the most of your life, not taking a single moment for granted. Taking something that's seen as a struggle and making it work for you, or you'll die inside. Not to say that my struggle is like the collective struggle of black America. But maybe my struggle is similar to one black dude's.

PLAYBOY: Do black women throw themselves at you?

MAYER: I don't think I open myself to it. My dick is sort of like a white supremacist. I've got a Benetton heart and a fuckin' David Duke cock. I'm going to start dating separately from my dick.

PLAYBOY: Let's put some names out there. Let's get specific.

MAYER: I always thought Holly Robinson Peete was gorgeous. Every white dude loved Hilary from The Fresh Prince of Bel-Air. And Kerry Washington. She's superhot, and she's also white-girl crazy. Kerry Washington would break your heart like a white girl. Just all of a sudden she'd be like, "Yeah, I sucked his dick. Whatever." And you'd be like, "What? We weren't talking about that." That's what "Heartbreak Warfare" is all about, when a girl uses jealousy as a tactic.
No. He. Didn't. No he didn't! What?! Has John Mayer been reading Vice Magazine? Is he so not-racist that he can just throw the n-word out in an interview or something?
This boy. I love his crazy ass.
February 10, 2010 at 10:42 am by Molls
Oh, jeez! Look who's back! It's my favorite drunken party skank, Tara Reid and she's on the cover of Playboy!
The completely unemployable actress has had a really rough go the last couple of years between dealing with what was clearly a substance abuse problem and a series of botched plastic surgeries that left her body looking like shrink-wrapped cottage cheese stapled to the inside of a leather purse. She's undergone more surgeries to remove a lot of the scarring that she experienced and now she's showing off her goods in a nudie mag so we all know that she's "back in action" or something. Tara (now 34 years old! Can you believe it? Time flies!) told a New York radio station "That's part of the reason why I did Playboy, to show people, 'Right, look at me. This is how I look now.'", referring to those horrible tummy tuck scars we all saw.
I wonder what the other reasons for doing Playboy were. Perhaps the fact that it was her only paying gig since a club appearance in New Mexico or a straight to DVD film? Perhaps because there really was nothing to say about the woman that hasn't already been said and she wanted to offer up a new angle for the press? Dare I say "art"?
December 14, 2009 at 11:42 am by Molls
Nothing in this world is sacred. Marge Simpson will be appearing — naked — on the cover of Playboy in November, ostensibly because they need something equally two-dimensional to compete with Levi Johston in Playgirl. I kid, I kid. It's to celebrate the 20th anniversary of the Simpsons, which makes me feel very old, because I remember, as a child, snubbing my nose at everyone and declaring "Don't have a cow, man," and sometimes I still get the urge to say it, even though Bart Simpson doesn't even say it any more. Like when my best friend's yelling at me because I forgot her birthday, or my boss is calling me into his office because traffic's down, or some dude is running around my bedroom cussing because the condom broke, I just want to be like, "Sheesh, don't have a cow, dude." And then I remember that, at 27 years old, it is not appropriate to say that. So instead I'm like "I swear I left you a voicemail!" or "I'll research Google's algorithm changes!" or "I'll totally go on the Pill tomorrow!"
What was my point here? Oh, yeah, Marge is going whole-hog naked for Playboy. She'll have a three-page spread and data sheet in the magazine. But, don't worry, the issue will also have an actual human Playmate inside, so that young women everywhere will have a normal female body to use as a role model. Wouldn't want them getting insecure with Marge's perfect cartoon curves.
Anyway. I don't know why, but I made a poll. I think it's funny. You can take it if you want.
[poll id="2"]
October 8, 2009 at 10:32 pm by Evil Beet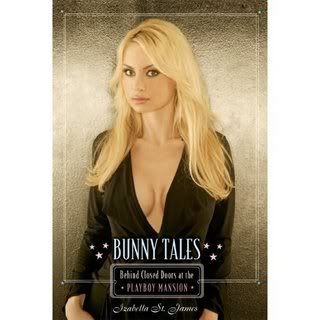 I was driving around the city this morning, flipping through the radio stations, when a convo on Star 98.7 caught my attention. The woman being interviewed was Izabella St. James, a former live-in girlfriend of Hugh Hefner. Apparently she's authored a tell-all, Bunny Tales: Behind Closed Doors at the Playboy Mansion. Her interview implied that perhaps — shocker! — life as one of Hef's girlfriend's isn't all fast cars, fancy clothes and mind-blowing sex. She implied that Hef is possessive and controlling — the girls have a 9 pm curfew, and when they're out in public they are always followed by guards, even to the bathroom, to insure they're not messing around on the side (she said most of them are anyway) — she implied that Hef's oldest son is gay and basically confirmed that his current #1 girl Holly is every bit the insane Hef-pleasing zombie she appears to be on Girls Next Door.
I'll be picking up this book this weekend and will have any and all wonderfully juicy tidbits for you next week.
If anyone can find a link to the transcript of the STAR 98.7 interview (it aired around 8:30 am today), please send it my way.
Get the book:
September 8, 2006 at 6:06 pm by Evil Beet