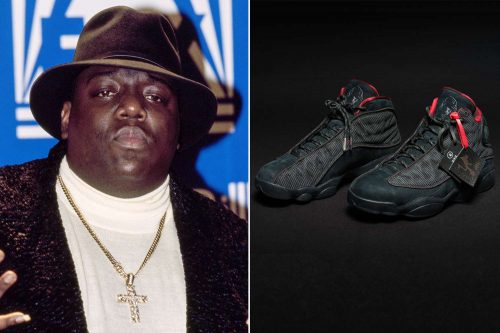 You know I love a good pop culture auction. Especially when the item crosses multiple interests. Rap fans, sneaker heads and Jordan lovers can all find something about these Air Jordan XIII.
Twenty three pairs of Biggie Smalls Air Jordans sold for over $30K at an auction this week. The Sotheby's auction closed on Friday (February 3), with the highest bid being a 9.5 and 10.5 pair for $32,760 each. 
The shoes were created back in 2017 on what would have been Biggie's 45 birthday but they were kept under wraps to roll out for his 50th.
The Christopher Wallace Air Jordan XIII was created through a partnership with Jordan Brand and the Christopher Wallace Memorial Foundation to celebrate February 3, 2023 — or 2/3/23, representing NBA Hall of Famer Michael Jordan's jersey number — the commencement of the "Jordan Year."